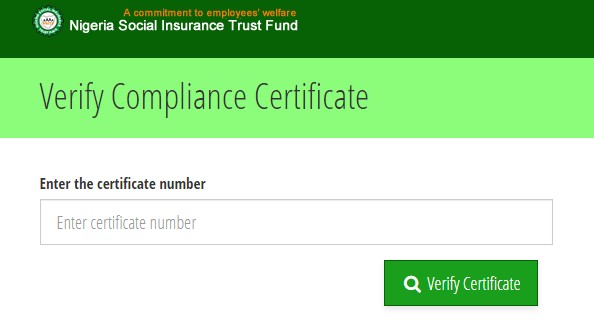 Verification of NSITF Compliance Certificate: This is how – Are you wondering whether your company's NSITF certificate is genuine?
Are you also not sure if your company is a registered company with National Social Insurance Trust Fund . Or do you want to verify your company registration code with the organization, then this post is for you. This post projects for you how to verify NSITF Certificates and other documents mentioned above.
NSITF:
As a matter of fact, the Nigeria Social Insurance Trust Fund is a proactive and employee dedicated government institution. It's committed to the welfare of employees in the event of work related accidents and injuries. Therefore, its compliance certificate is very essential to winning a federal government contract.
As a matter of fact, a lot of people don't know this. In the course of my professional engagements I have seen many business men and women who are yet to know about this essential institution. Therefore, it becomes very difficult to persuade them to meet up with this legal obligation. Some even ask why should they be involved. And if care is not taken, they would want to think you re fraudulent. The only saviors is that this certificate is becoming a gate pass for every one looking for federal government contract. Fortunately enough, you can click here to verify you status for this certificate.
Essential Contract bidding Certificates:
Among the essential documents required, PENCOM, ITF, NSITF, IRR, CAC documents, Tax clearance, no Nigerian is friendly with any except CAC incorporation documents. For them, it is to register with CAC and start operating. Even the regular annual returns with CAC is a big challenge.
My dear, do you want to get involved with federal government contract? Then, you must comply with the requirements of the institutions handling the items mentioned above. Firstly, before you can be classified as a qualified Firm or Company capable of processing a government contract and any of the certificates mentioned above, you must have been appropriately registered with the corporate affairs commission (CAC). Upon completion of the registration process, the commission issues a Certificate of Incorporation as a prima facie evidence of registration. This is in addition to certified true copies(CTC's) of the Form CAC 2A, 2.1, 7A or 1.1 which specifies details of the Directorship, shareholders/shareholding, secretary, and registered address of the company.
A Fresh CTC – Certified Ture Copy for Verification of NSITF Compliance Certificate: This is how
As a matter of fact, these set of documents must be in the company's registry at all time. It's then imperative for a prospective bidder to ensure that a fresh application for CTC of the documents re obtained. These re the Certificate, Form CAC 2A, 2.1, 7A or 1.1. This is made to the organization so as to save the time which the Government agency making the offer will expend investigating the authenticity of the documents if mere photocopies of the originals were enclosed in the bid. Currently, since the implementation of CAMA 2020 what CAC gives now for all of these is Status Report. So, you must get it to support your bidding documents.
NSITF Compliance Certificate
The next thing to show is evidence of current Nigerian Social Insurance Trust Fund (NSITF) Compliance certificate. This is another key to a successful tender/expression of interest. NSITF compliance certificate is applied for and obtained yearly. The issuance will require the following documentation and process of application:
An application letter on the company letter head signifying intention to secure the compliance certificate from the fund. And the letter will be accompanied with the following documents:
A copy of the CAC Certificate of Incorporation
Completed ECS RE 01 Registration Form, payroll Form RE 03 and the 10 digit Registration Number issued to the employer upon registration with the Fund.
A copy of the NSITF receipt showing evidence of payment

Furthermore, it is important to note that the assessment of the liability of the employer subject to the issuance of an NSITF Compliance certificate is 1% of 5 staff total salary for the Number of months applicable to an applying employer/company starting from 30th June 2011.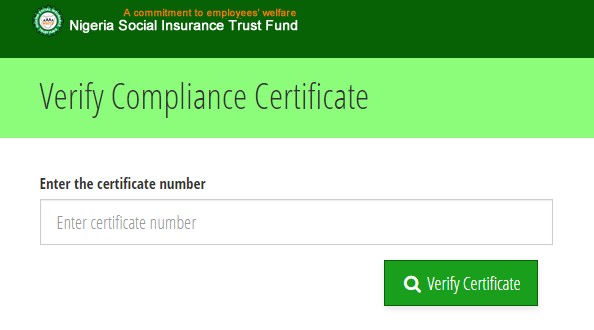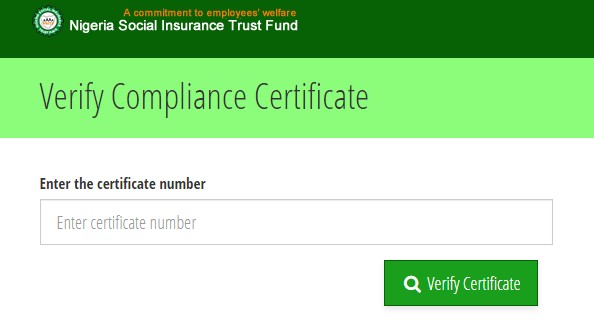 .Do well to follow the instructions and directives on this platform. First enter the number of the certificate you are holding now at the appropriate column. Then, click verify Certificate. You are done. Now, check out our recommended topics for more of your business growth
Recommended Topics:
These topics will help you. They are selected for your good. So, ensure you spend time reading not less than two of them before you leave the page. In fact, other linked pages are also there to support or give more explanations to these topics. Just click on them.
Summing up on Verification of NSITF Compliance Certificate: This is how

Finally, did you get everything? Did you get the steps required to verify that your firm is a registered firm with NSITF. And that the certificate in your hand is genuine. If this is a difficulty job for you, simply let us know by calling +234 8034347851 and mails to cfmclimited@gmail.com.
In fact, you are free now to copy or bookmark this page. That will assist you keep in touch with us. Yes! You can also now share to reach your friends. Our services are affordable. Follow us on our social media buttons and add to our email platform bellow.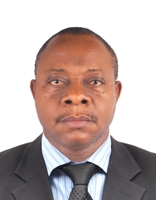 Founder/Managing Partner of Complete Full Marks Consultants Ltd. An Economist turned Chattered Accountant and Tax Practitioner with over 37 years of industrial experience.