Rural Infrastructure Engineers @ FMARD  2017 Recruitment  for IFAD in Ebonyi.  Benue & Anambra States. The Rural Infrastructure Engineer will support and facilitate planning, implementation and monitoring of Rural infrastructure activities in the State. This is for Rural Infrastructure Engineers @ FMARD  2017 Recruitment  for IFAD
Collaborations:
The collaboration between The Federal Ministry of Agriculture and Rural Development (FMARD) and International Fund for Agricultural Development (IFAD):
The Federal Ministry of Agriculture and Rural Development (FMARD) has been implementing the international Fund for Agricultural Development (IFAD)- assisted Value Chain Development Programme since 2014 in six (6) participating States of Anambra, Benue Ebonyi, Niger, Ogun and Taraba and in five (5) Local Government Areas each in all the States. In keeping with the provisions of the financing agreement between IFAD and Federal Ministry of Finance, the ,FMARD is implementing the programme through the national programme management unit.
Rural Infrastructure Engineers @ FMARD  2017 Recruitment  for IFAD in Ebonyi, Benue & Anambra States
The IFAD  operations in
Nigeria
have contributed to:
Generating and disseminating technology to increase incomes and family food security, while also introducing approaches for effective soil and water conservation and environmental management
Fostering demand-driven and participatory approaches to agricultural and rural support services
Strengthening institutional capacities to ensure the sustainability of successful development initiatives.
Based on the progressive increase in workload of Staff and the need to further improve on Programme implementation, part of the credit will be applied to engage the services of an additional officer to enhance technical assistance at the state level.
Applications are therefore invited from suitably qualified candidates for the position below:
JOB VACANCY ADVERTISED:
Rural Infrastructure Engineer
Location: Ebonyi, Benue, & Anambra States
Project Objectives
The primary goal of VCDP is to reduce poverty and sustainably enhance accelerated economic growth, whilst the specific programme development objective (PDO) is to increase the incomes and enhance food security for 45,000 rural poor households engaged in the production, processing and marketing of rice and cassava in the targeted LGAs of the six targeted States are enhanced on a sustainable basis.
 FMARD  2017 Recruitment  for IFAD in Ebonyi, Benue & Anambra States
Core Duties and Responsibilities
Develop activities for the Annual Work Plans and Budgets (AWPBs):
Support participating states and local governments to prepare and review annual work programmes and budgets relating to engineering and maintenance activities;
Assist with the recruitment and management of engineering consultants;
Organize and assist with the preparation of guidelines and manuals for operation and maintenance of rural in the States;
Organize capacity building programmes for rural infrastructure maintenance teams:
Organization and conduct of training (repair, rehabilitation, construction and maintenance of small-scale irrigation works; processing and storage structures; other small buildings; and rural community access and feeder roads and small bridges and drainage structures, amongst other);
Provision of assistance and practical advice to participating states and local governments in the design of works and procurement of contractors, and supervision and monitoring of works;
Oversee organization of effective user associations and community contributions to implementation and maintenance of works, critical so sustainability:
Select service providers where necessary and formulation of TORs and scope of work for the service providers Supervise, monitor and certify the work of service providers for the various activities and assignments: and
Consolidate state progress reports and contribute to the drafting of periodic project progress reports.
Qualifications and Cognate Experience Required
A minimum of First Degree in Civil Engineering;
Professional qualification will be an added advantage
Implementation experience in abroad range of community level infrastructure
A minimum of 10 years field experience working with rural communities in planning, budgeting, constructing, maintaining and monitoring community infrastructure;
Ability to communicate with and work with rural communities;
Experience with international donor procurement procedures including evaluation of bids;
Knowledge of community-based approach whereby community choice and ownership to rural infrastructure development and management;
Excellent written and spoken English.
Must be computer literate.
Working experience with International Donor Organizations will be an added advantage.
 Recruitment  for IFAD in Ebonyi, Benue & Anambra States
Conditions of Service
Successful candidates will be engaged for a period of one year ONLY
Candidates engagement is subject to renewal, which will be based on satisfactory performance upon evaluation and availability of funds.
Application Closing Date
14th December, 2017.
Method of Application
Interested and qualified candidates should submit their Applications accompanied with detailed Curriculum Vitae and copies of credentials to:
FGN/IFAD-Value Chain Development Programme (VCDP) National Office,
No. 4 Batna Close,
Off Agadez Crescent,
Off Aminu Kano Crescent,
Wuse 2,
Abuja.
Note
Applicants should please indicate the position they are applying for at the top right hand corner of the envelope.
The position is open to qualified persons including from the serving public Officers.
 For further information:
Please keep in touch with this website for your updates on this recruitment exercise. You can do this by sending in your comments. If you  Click any of our social media buttons you will ensure such regular updates.
Let Your friends and Colleague know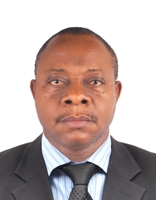 Founder/Managing Partner of Complete Full Marks Consultants Ltd. An Economist turned Chattered Accountant and Tax Practitioner with over 37 years of industrial experience.