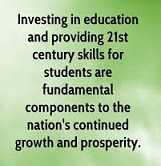 Education for the 21st Century/Teaching and leaning Skills – Related to education for 21st century are, 21st century skills list, 21st century skills for teachers,21st century skills definition, 21st century skills 4 c's, 21st century skills pdf, 21st century skills ppt, 21st century skills standards, 21st century learning strategies. Get information on Education for the 21st Century, Teaching and learning skills here.
Education for the 21st Century:
Firstly, education can be defined as a way to develop skills, habits and Attitudes that are expected to make good citizen, the intent to develop or alter cognition, and affection. Education is the process of changing one's attitude and code of conduct. The word education is derived from the Latin Educare meaning "to raise", "to bring up", "to train", "to rear".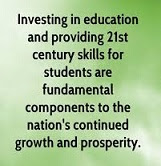 The Role of Education in the 21st Century
:
As you can see, our world is changing, and in order to prepare our children for this new world we need to change the way we educate them. In the 21st century educators must create a curriculum that will help students connect with the world and understand the issues that our world faces.
As a matter of fact, schools in the 21st century will become nerve centers, a place for teachers and students to connect with those around them and their community. Teachers in this new environment will become less instructors and more orchestrators of information, giving children the ability to turn knowledge into wisdom.
UNESCO
Consequently, one global body that bothers so much about education is UNESCO. Education transforms lives and is at the heart of UNESCO's mission to build peace, eradicate poverty and drive sustainable development. UNESCO believes that education is a human right for all throughout life and that access must be matched by quality. The Organization is the only United Nations agency with a mandate to cover all aspects of education. It has been entrusted to lead the Global Education 2030 Agenda through Sustainable Development Goal. The roadmap to achieve this is the Education 2030 Framework for Action (FFA).
Therefore, in order to educate in the 21st century, teachers and administrators need to cultivate and maintain the student's interest in the material by showing how this knowledge applies in the real world. They must also try to increase their student's curiosity, which will help them become lifelong learners. Next they should be flexible with how they teach and give learners the resources to continue learning outside of school.
Education for the 21st Century,Teaching and leaning Skills 
You would want to know what are the 21st century skills students need?
There are many skills that children will need in order to be successful in the 21st century. Here are a few of the most important 21st century skills provided by teachercertification.org.
Ability to collaborate, work in teams
Critical thinking skills
Oral presentation skills
Written communication skills
Ability to use technology
Willingness to examine civic and global issues
Ability to conduct research to learn about issues and concepts
Chance to learn about new career opportunities
Yet people continue to ask:
What are the 21st century skills students need?
And. what is the 21st century?
What is a teacher in the 21st century?
What is the role of education?
edglossary.org provides the following as a brief illustrative overview of the knowledge, skills, work habits, and character traits commonly associated with 21st century skills:
Critical thinking, problem solving, reasoning, analysis, interpretation, synthesizing information
Research skills and practices, interrogative questioning
Creativity, artistry, curiosity, imagination, innovation, personal expression
Perseverance, self-direction, planning, self-discipline, adaptability, initiative
Oral and written communication, public speaking and presenting, listening
Leadership, teamwork, collaboration, cooperation, facility in using virtual workspaces
Furthermore:
Information and communication technology (ICT) literacy, media and internet literacy, data interpretation and analysis, computer programming
Civic, ethical, and social-justice literacy
Economic and financial literacy, entrepreneurialism
Global awareness, multicultural literacy, humanitarianism
Scientific literacy and reasoning, the scientific method
Environmental and conservation literacy, ecosystems understanding
Health and wellness literacy, including nutrition, diet, exercise, and public health and safety
Education for the 21st Century/Teaching and leaning Skills 
Therefore, in the ideal 21st century classroom, kids are actually excited about going to school, and there are little or no discipline problems because everyone is eager to learn. In this type of classroom activities and lessons are related to the community, whether local or global. Students collaborate with people from different schools and different countries to learn about issues that affect us all, as well as how we can solve them today and in the future.
The curriculum in the classroom is designed to incorporate many skills and intelligence levels, and makes use of technology and multimedia. The lessons are not based on textbooks, instead they are project based. Skills and content are learned through their research and projects, and textbooks are provided as one of many possible resources.
In addition,
UNESCO provides global and regional leadership in education, strengthens education systems worldwide and responds to contemporary global challenges through education with gender equality an underlying principle. Its work encompasses educational development from pre-school to higher education and beyond. Themes include global citizenship and sustainable development, human rights and gender equality, health and HIV and AIDS, as well as technical and vocational skills development.
21st century curriculum:
A new addition to 21st century curriculum is the study of green education and environmental issues. Kids are taught awareness of their world and real experts such as scientist and politicians are brought in to answer student's questions.
New schools in the 21st century will be bright and spacious, and kids will have room for group projects and individual assignments. Walls will be hung with student work, and there will be places for students to put on performances for their parents and members of the community. Students have full access to technology and, if possible, every student will have a laptop.
Within the school there will be labs and learning centers, as well as studios for art, music, theatre, and so on. Each classroom will be equipped with a television so that all students can watch school productions and other school presentations.
Teaching and leaning Skills 
While it may take some time before schools and teachers are equipped to properly educate in the 21st century once they are the results will be dramatic. Children will be engaged and eager to learn. In fact, they will carry on learning at home and over holidays, and they will have the resources they need to keep learning no matter where they are. This ability to foster a love of learning is truly the role of education in the 21st century.
Education for the 21st Century &  How education can transform society:
ON MAY 7, 20171; Speakers and participants at the just concluded education convention organised by Meadow Hall Foundation, a subsidiary of Meadow Hall Group, recently listed several issues confronting the education system in Nigeria and how to resolve them. They stressed that only education could transform the society if the focus was more on human capital development and value system, urging stakeholders in the sector to come together to influence policy on quality education at all levels.
The two-day convention which was held in Lagos with the theme: "Transforming our society through education," provided an opportunity for stakeholders and participants to gain perspectives on issues and mentorship programs. At the end, recommendations were made on how to use education to transform society, enhance service delivery and promote professional development.
Meadow Hall Foundation
In a statement, Head, Meadow Hall Foundation, Mrs. Kemi Adewoye, said: "Meadow Hall Foundation's passion for teachers and quality education led to the initiation of this education convention, which brought educational stakeholders such as teachers, head teachers, school owners, parents and community leaders, government officials and policy makers to discuss ways to advance our society through education."
Speakers at the convention include former Minister of Education and Vice President of the World Bank, Dr. Oby Ezekwesili; CEO, Gemstone Group, Mr. Fela Durotoye; Special Adviser to Lagos State Governor on Education, Mr. Obafela Bank-Olemoh.
Education for the 21st Century/Teaching and leaning Skills 
Everywhere you talk about education today, it is this 21st century education that is being discussed. Educationists were emphasising on so much that will happened in the 21st century. The 21st century talked about is now here. Everything must be done to make education work in this century.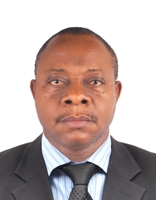 Founder/Managing Partner of Complete Full Marks Consultants Ltd. An Economist turned Chattered Accountant and Tax Practitioner with over 37 years of industrial experience.