Airtel Nigeria is Recruiting GL Revenue Accounting Executive Dec. 2022-  Airtel Nigeria best job vacancies available through Airtel Nigeria recruitment portal. General ledger Revenue Accountant (GL) is a good job opportunity with Airtel Nigeria. He/she will be in charge of customer accounts reconciliation, debt management, liaising with external auditors and monitoring of the Internal Control system.
Employer Brief:
Airtel Nigeria (Airtel Networks Limited), a leading mobile telecommunication services provider in Nigeria and a member of Airtel Africa Group, is committed to providing innovative, exciting, affordable and quality mobile services to Nigerians, giving them the freedom to communicate, rise above their daily challenges and drive economic and social development. 
The company made history on August 5, 2001 by becoming the first telecoms operator to launch commercial GSM services in Nigeria and has scored a series of many "firsts" in the highly competitive Nigerian telecommunications market including the first to introduce toll-free 24-hour customer care; first to launch service in all the six geo-political zones in the country; first to introduce affordable recharge denominations; first to introduce monthly free SMS and first to introduce monthly airtime bonus.
We are recruiting to fill the position below:

Airtel Nigeria is Recruiting GL Revenue Accounting Executive Dec. 2022
RECRUITMENT DETAILS
GL Revenue Accounting Executive
Employment Type: Full Time
Industry: Telecommunications
Location: Nigeria
Job Description
Looking for a suitable candidate to fill the role of GL Revenue Accounting Executive who would be responsible for:
Ensure accuracy in recognition of Interconnect Revenue & Post-paid revenue reporting
Ensure zero level of bad debt by reconciliation of partners' account and liaising with respective partners for prompt payment
Ensure timely reporting of all month-end reports
Ensure annual financial statements are prepared in line with current international accounting standards
Closure of 10-year plan to support AFS evaluation
Ensure collation of all relevant audit data and ensure smooth running of audit exercises within
  Financial Reporting Directorate
Daily monitoring of receivables collections from all Interconnect Partners and Postpaid Customers
Bi-weekly intimation of receivable positions to relevant stakeholders.
Manage the relationship with both internal and external parties, Interconnect partners, Enterprise team and CSD team in order to ensure that collection of all outstanding receivables are received on the due dates at all times.
Enure proper hygiene controls on all GL lines
Ensure reconciled GL positions
Ensure that all schedules are reconciled to system balances 
Financial Dimensions:
Zero exposure to the business arising from non-payment by Interconnect Partners and Postpaid customers
Decrease bad debt positions in Interconnect & Postpaid an all other Airtel's receivables rising payment issues
Accurate reporting of all revenue lines to ensure zero tolerance of exposure in terms of over/under reporting
Other Dimensions;
Accuracy level of 100%
Timely reporting in line with SLAs
Adherence to policy and procedures 
Requirements
Applicants must have:
A Bachelor's degree and professional qualification in Accounting.
3-5 years' work experience in an FMCG or Telecoms industry
Strong analytical skills and Microsoft excel proficiency
Strong financial analysis and reporting skills
Attention to detail and ability to translate financial data into usable business intelligence
Good team player
Ability to multi-task in a fast-paced environment with frequently changing priorities 
Application Closing Date 
12th December, 2022.
How to Apply
Interested and qualified candidates should:
Note: Only shortlisted candidates will be contacted.
Airtel Nigeria is Recruiting GL Revenue Accounting Executive Dec. 2022
Get More Information
This website will be updating you on this recruitment exercises.  It's your duty to keep in touch with this site for your regular updates.
You can do this by dropping your e-mails address on our follow by e-mail platform at the right  hand corner of this page. If you send in your comments and questions through our comment tab you will also be updated. If you follow us on our social media  platforms by 'like us', you will also have the same information.
Get your friends to know about this information by clicking our social media share buttons on – Facebook, tweeter, LinkedIn  etc. below this post.
Get your business plan and feasibility studies in 7 days –
read more
  Partner with us on referral basis for commission – auditing and taxation assignments, preparation of business plans and registration of company with CAC and obtaining  mining licences.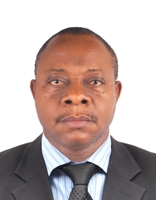 Founder/Managing Partner of Complete Full Marks Consultants Ltd. An Economist turned Chattered Accountant and Tax Practitioner with over 37 years of industrial experience.