Edo State Graduate Internship Programme 2018
Edo State Graduate Internship Programme 2018 – This  is where to apply for Edo State Graduate Internship Programme (EDO-GIP) 2018.  Internship is official program offered by employer to potential employees most popularly undergraduates or graduate students who work between one to four months and have goal to gain practical work or research related experience within the period. Edo State Graduate Internship Programme 2018
Edojobs – Has commitment to the development of the workforce in Edo State. Edojobs is partnering  Romanspage Global (top Human Resource Consulting firm) to train and engage young graduates for  Edojobs Graduate Internship Programme (EDO-GIP).
Edo State Graduate Internship Programme 2018
Therefore, applications are invited for the position of:
 Graduate Intern
Location: Edo
Job Descriptions
Firstly, Edojobs Graduate Internship Programme (EDO-GIP) is a 6-month intensive internship (paid) and mentoring programme to give young people access to work experience and job opportunity with  potential to achieve a 70% permanent employment rate.
Secondly, EDO-GIP aims at providing opportunities for young graduates to explore chosen career fields by assigning them to organisations (large corporations and SMEs) to learn technical and practical skills required to launch into desired career path.
Thirdly, at the end of the programme, participants would have acquired and developed transferable skills that would serve as  enviable foundation for building  successful career either as employee or as entrepreneur.
Edo State Graduate Internship Programme 2018
As a matter of fact, Internship positions are available for the following fields;
Sales/Marketing
I.T
Account/Finance
Administration
Customer Service/Front Desk
Human Resources, and
Other Field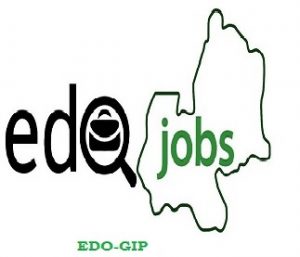 Edo State Graduate Internship Programme 2018
Inherently, successful applicants will:
Gain invaluable work experience during internship
Get paid learning on job
Trained on workplace skills before deployed to organisation
Get valuable insights into business practices
Explore career path
Give yourself edge in job market
Develop and refine  skills
Transition into desired career
Network with professionals
Requirement for Application
On the other habd, applicants must meet the following requirements to be eligible for the programme:
Minimum of B.Sc/HND
Must have completed NYSC
Show adaptability or willingness to learn new skills and commitment to service delivery.
Must be residing in Edo State
Not older than 30years old
Must be registered on Edojobs portal
Good knowledge and usage of Microsoft Office Suite (Word, Excel, Powerpoint)
Must be ready to contribute to  development of organisation deployed to
Edo State Graduate Internship Programme 2018
Application Closing Date
30th November, 2018.
How to Apply
Interested and qualified candidates should:
Click here to apply online
Lastly, get more recruitment information here. Do also click on any of our social media buttons on this page to follow us and ensure your regular updates.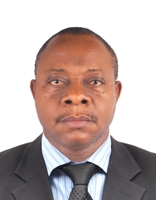 Founder/Managing Partner of Complete Full Marks Consultants Ltd. An Economist turned Chattered Accountant and Tax Practitioner with over 37 years of industrial experience.