3 Job vacancies at Airtel Nigeria February 2022- Business Solution Manager at Port Harcoourt, Retail Shop Managers for  Lagos, Osun and Ekiti, and Lead, TowerCo for Lagos offices.
Airtel Nigeria (Airtel Networks Limited), a leading mobile telecommunication services provider in Nigeria is recruiting to fill the following positions below:
(1)  Business Solution Manager
Location: Port Harcourt, Rivers
Deadline: 26th January, 2022
Job Description
Provides the required and much-needed Pre-sales, Technical and Operations related support to the Enterprise Services Business for efficient and timely Service delivery within the service value chain
Key Requirements
Bachelors Degree in Computer Science, Electrical Electronics Engineering with Computing Option or any other IT related courses
Professional qualifications in Networking such as CCNA, CCNP or higher will be an added advantage.
ITILv3 and any service management exposure is desirable
5-7 years of work experience with 3-4 years of relevant experience in Telecom Industry. 2 which has to be at supervisory level.
Relevant experience in IT/telecom enterprise services networking environment will be preferred.
Good Sales techniques overview and exposure.
Extensive knowledge of Microsoft office suite (MS Project, Word, Excel, Visio, and PowerPoint)
Good knowledge of Agile or other processes.
Visit: www.linkedin.com/jobs/view/business-solutions-manager-at-airtel-nigeria  to apply

3 Job vacancies at Airtel Nigeria February 2022
(2) Lead, TowerCo
Location: Lagos
Deadline: 26th January, 2022
Job Description
Looking for a suitable candidate to fill the role of Lead: TowerCo within the Supply Chain Management Function.
The role holder would be responsible for the management and governance of all TowerCo contracts.
Analysis of contract costs and optimization:
Review and analysis of TowerCo contracts to identify cost optimization opportunities and improvement in contract terms
Monthly ordering, invoicing and TowerCo payment and reconciliation:
Review site payment schedule from TowerCos ensuring alignment with the Finance and Networks teams
Timely validation of sites schedules as per MasterTower Sharing Agreement (MTSD) for TowerCo payments
Drive and monitor SLAs for quick validation of payments
Preparation of all payment documents/ reports for TowerCos approval
Weekly & Monthly Reporting:
Weekly and monthly reporting
Validation and review of HQ performance deck
Analyse and prepare detailed commentary and insights on financial results
Key KPI Tracking and Reporting:
Ensure timely submission of month end Business Reviews
Key Requirements
Graduate and/ or Post-Graduate degree in Business Administration, Economics and Finance
Professional qualifications in Accounting (ACA).
Advanced proficiency in the use of Microsoft Suite
5-7 years of relevant experience in FMCG or Telecoms industries
Strong analytical communications and leadership skills
Research and data gathering skills
Details oriented
Visit: www.linkedin.com/jobs/view/lead-towerco-at-airtel-nigeria to apply
3 Job vacancies at Airtel Nigeria February 2022
(3)  Retail Shop Manager – Lagos, Osun and Ekiti
Deadline: 30th January, 2022
Job Description:
Successful role holder would be responsible for implementing and monitoring service delivery strategy in their respective Showrooms and ensure that the customer base within their territory enjoys remarkable positive in-store experience complete with query resolution.
Key Responsibilities
Managing Showroom Financials:
Track, manage and control stock movement within and out of assisgned warehouses
Ensure availability of all company products and services in the Showroom
Asset Management:
Manage all compay assets in the Showroom
Ensure systems and equipments are in working conditions
Escalate all Showroom facility issues for prompt resolution
Customer Experience/ Satisfaction:
Relationship management; build strong relationships between Airtel and its customers
Query Resolution & SLAs:
Monitoring and ensuring adherence to all Showroom processes
Ensure Showroom Agents have the required work tool/ accesses
Ensure all Showroom queries are resolved within the approvd SLA
Monitor turnaround time for all al queries/ enquiries and institute pricess improvements when required
Reporting:
Daily, weekly and monthly reporting of all Showroom Financials.
Other Dimensions:
Minimum of 4 direct reports (off roll Agents).
Key Requirements
Minimum 2 years work experience in a customer service with working knowledge of customer admistration tools and industry software.
Excellent problem solving skills
Above average skills in Microsoft Office Suite
Excellent oral and written communication skills
Have a passion for customer satisfaction and service delivery
Attention to detail.
Visit: www.linkedin.com/jobs/view/retail-shop-manager-at-airtel-nigeria to apply.
For Your Updates
This  site will keep you updated on this recruitment, and others.
Click here
for more recruitment information. Like us or follow us via any of the social media on this page. Just click any one to guarantee your updates.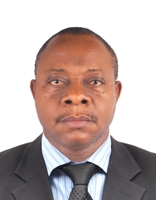 Founder/Managing Partner of Complete Full Marks Consultants Ltd. An Economist turned Chattered Accountant and Tax Practitioner with over 37 years of industrial experience.