Catholic Relief Services  Technical Specialist Recruitment  Nov. 2018
Catholic Relief Services  Technical Specialist Recruitment  Nov. 2018 –  Catholic Relief Services (CRS) is recruiting Tech ical Specialist. The Technical Specialist will participate as  full member of  CRS/Nigeria Program Department. This means active involvement in all program department activities as needed. Apply for Catholic Relief Services  Technical Specialist Recruitment  Nov. 2018 .
Catholic Relief Services (CRS)
As a matter of fact, Catholic Relief Services (CRS) is international non-governmental organization supporting relief and development work in over 99 countries  of the world. CRS programs assist persons on  basis of need, regardless of creed, ethnicity or nationality. Therefore,  CRS works through local church and non-church partners to implement its programs, therefore, strengthening and building capacity of partner organizations is fundamental to programs in every country CRS operates.
Catholic Relief Services  Technical Specialist Recruitment  Nov. 2018
APPLY AS:
 Technical Specialist

Job Ref Code: TSD311018
Location: Delta
Position Band: D-1
Reports to: State Team Lead/Clinical Coordinator
Department: Global Fund HIV
Job Context
CRS is  Sub-Recipient to Family Health International (FHI 360) on  Global Fund New Funding Model HIV Program in Nigeria.
The Program  scales up gender sensitive HIV prevention services among children and adults in Nigeria.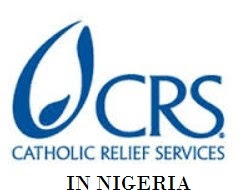 Catholic Relief Services  Technical Specialist Recruitment  Nov. 2018
Specific Job Responsibilities
Training and Mentoring:
Coordinate and mentor  ART, TB-HIV, PMTCT and SRH clinical care teams at supported facilities and ensure  functional effective units
Carry out technical needs assessment with respect to ART, TB, PMTCT, HCT and SRH at partner health facilities, proffer solutions in line with GF & CRS's organizational goals  objectives.
Provide onsite mentorship to partner facility staff in ART, TB/HIV, PMTCT, SRH.
Maintain current knowledge of HIV/AIDS patient's standard of care at partner health facilities through organization of didactic sessions, mortality reviews, case reviews/presentations etc.
Ensure all SHCs have adequate knowledge materials and job aids to ensure uniformity of practice across  sites.
Follow up on implementation, monitoring and evaluation of quality improvement strategies identified by program team, training needs and participation in meetings geared towards meeting overall grant objectives at partner health facilities.
Direct management of people infected and affected by HIV infection at partner health facilities.
Use appropriate tools to document support  during mentoring visits and ensure  facilities have copies of these.
Work with Adherence Officer and  team members to ensure high quality of care and high standards of implementation of  project in the state.
Work closely with M&E team to ensure  there is sufficient timely program data, and technical decisions re data driven in the state.
Catholic Relief Services  Technical Specialist Recruitment  Nov. 2018
Program Management:
Monitor target across PHCs and SHCs, determine and provide feedback to ensure target achievement.
Actively come up with strategies to ensure donor target achievements re met.
Collaborate with SHC staff and support groups to ensure patients on ART re tracked and followed up on.
Ensure adequate knowledge of processes and output indicators specified by donors.
Provide direct supervision of partner SHCs.
Monthly reporting of activities carried out at partner health facilities.
In collaboration with program and technical staff, develop, implement and periodically update  decentralized GF workplan.
Budget Management:
Ensure  cash advances re liquidated promptly
Partnerships and Networking:
Liaise with other GF and PEPFAR partners in  state to ensure coordinated service provision to CRS-supported sites.
Develop and maintain healthy relationships between CRS' GF partner facilities, Catholic Church and its partners, GoN and other relevant stakeholders.
Representation at state technical working groups for ART, TB, HCT, PMTCT and SRH, as well as at other meetings and related activities as designated.
Key Working Relationships
Internal: State Team Lead, Clinical Coordinator, Supply Chain and Lab Officers, M&E Team
External: SACA, SMoH, PEPFAR IP
Catholic Relief Services  Technical Specialist Recruitment  Nov. 2018
Required Qualifications
M.B.B.S., with  Masters' Degree in Public Health or related field –  strongly preferred.
A minimum of 3 years' post-NYSC clinical experience working in HIV/AIDS management with significant program management responsibilities.
Demonstrated ability to manage project in  HIV/AIDS service delivery setting, including working with government authorities.
Proven experience working with partner organizations in both  public and private sectors.
Working knowledge of and experience with GF or USG projects will be advantage.
Excellent organizational, analytical, oral and written communication skills
Ability to interface with multiple stakeholders, representatives, and partners in  professional manner  ongoing basis.
Excellent analytical and information seeking skills, good decision-making skills.
Experience with participatory planning and evaluation methods preferred.
Excellent English language- oral and written communication skills.
Proficiency in MS Office suite, including Word, Excel and Outlook.
On the other hand, this job description is not exhaustive list of  skill, effort, duties, and responsibilities associated with  position, kindly use the link provided for accessing the various JDs for position.
Catholic Relief Services  Technical Specialist Recruitment  Nov. 2018
READ ALSO:
Application Closing Date 
5pm; 14th November, 2018.
How to Apply
Lastly, if you re interested and qualified candidate you  should download  "Application Form" below and send with  detailed Resume as one document in PDF to: vacancies.ne.nigeria@crs.org indicating position being applied for and  Job Ref Code as  subject of  application.
Click here to download Application Form (MS Word)
Click Here for Job Details (Doc)
Lastly, note that CRS is an equal – opportunity employer and does not discriminate based on race, color, religion, etc.  Therefore, qualified women re strongly encouraged to apply.
Catholic Relief Services  Technical Specialist Recruitment  Nov. 2018