When Does Compliance Certificates for Contracts Become Necessary in Nigeria, is the question. This is another question that requires an answer from every federal government contractor. As a matter of fact, if you are such a contractor or an intending contractor, this question is for you. This is also necessary for organisation's management staff who are in a position of making contract decisions. In fact, fellow professionals who handle such services and students need to get answers to this question. The question is When Does Compliance Certificates for Contracts Become Necessary in Nigeria?
RELEVANT QUESTIONS:
In addition, if you are faced with issues like:
Then, this article is a must read for you.
When Does Compliance Certificates for Contracts Become Necessary in Nigeria? – FEDERAL GOVERNMENT OF NIGERIA CONTRACTS:
As a matter of fact, Federal government of Nigeria is the biggest spender in the country's economy. This means it's also the highest Contractee in the country. Every year the federal government makes budget of trillions of Naira for both capital and recurrent expenditure. The thing is that the government carry's out these budgets using contractors. I know that your prayer every time is to at least win a federal government contract.
As you can see, there are moments when contract bidding certificates matter a lot in Nigeria. At such times, there is the need to consider the particular compliance certificate needed. Therefore, when there is need for any of the certificates, what do you do? These are the trust of this article.
As a matter of fact, in our previous write-ups we have been able to present to you various types of certificates required and procedure to obtaining them. Check out here.
CONTRACTORS CAPACITY TO WIN CONTRACTS:
So, if you must win any federal contract, here are some of the things you must do.
Register your business with CAC – This will in addition ensure your business is in BPP data base.
Build a Portfolio – This shows work experience and availability of capable workforce.
Seek Information and Research the Institutions – Information on the character and procedure of a particular institution/ministry, agency matters.
Contact the Procurement Department – This is very necessary for getting correct information. However, ensure that such contract is statutorily published in the regular federal government contract publication journal. Otherwise, be satisfied that the award of the contract is statutorily approved.
Use the Internet – These days, everything is online.
Request Detailed Information – At the procurement department or any other relevant office, get detailed information.
Bid for the Contracts – Following every instruction given.
Then, Prepare Your Proposals for final submission.
CONTRACT BIDDING COMPLIANCE CERTIFICATES for When Does Compliance Certificates for Contracts Become Necessary in Nigeria?
Contract Bidding Compliance Certificates are mandatory requirements for every enterprise to satisfy for a contract. This is by fulfilling the statutory requirements for each organisation controlling the issuance of the particular certificate.
1. Business Registration Certificate @ CAC
As a matter of fact, it's mandatory for every active business to register with the Corporate Affairs Commission (CAC). The agency is responsible for the registration of organizations in Nigeria.
How to register your business with CAC
A prospective business man/woman is expected to complete the necessary forms to register his/her business with CAC. It's also necessary to update the annual returns. If you can't do this, just contact us now. Call +234 8034347851 or cfmclimited@gmail.com. Or click here for more information.
2.Compliance Certificate from NSITF
NSITF is the acronym for National Social Insurance Trust Fund. The NSITF Compliance certificate is one of the major documents required from any contractor or supplier dealing with the Federal government of Nigeria.
This organisation handles the Social Insurance Scheme designed by government to provide compensation to employees who suffer occupational hazards. In like manne ensures compensation to the employee next-of-kin in case of death in the course of work.
How to apply & obtain NSITF certificate
To obtain the certificate, there will be a physical assessment of your company wage payroll bill by NSITF. This information could also be obtained from the firms audited accounts. The rate is 1% of the gross emolument. NSITF took effect from 2011.  Click here for details.
3. ITF Certificate
ITF stand for Industrial Training Fund. This Compliance Certificate is another major document required for your tender's applications. The stipulation is that;
Every employer having either 5 or more employees in its establishment or having less than 5 employees but with a Turnover of N50m and above per year, shall, in respect of each calendar year and or the prescribed date, contribute to the Fund 1% of its total annual payroll.
Contact us if your transactions are not up to N50m or  have less than 5 employees.
How to apply & obtain ITF certificate
To obtain the certificate, there will also be a physical assessment of your company wage payroll bill by ITF. Your firm's audited accounts will be required for this. The rate is 1% of the gross emolument. ITF assessment is from the date of your company incorporation. Click here for details.
4.Compliance Certificate from PENCOM
National Pension Commission (PenCom) compliance certificate is compulsory for contractors. So if you wish to bid for any Federal government contract from any Federal Government Ministries, Departments and Agencies (MDA), you must get it. As a matter of fact, all contractors must provide proof of compliance with the provisions of the Pension Reform Act, 2014 (PRA 2014) by obtaining the compliance certificate.
How to apply &  obtain PENCOM certificate
You must have a minimum of 3 employees. And render account of pension contribution for the staff for 3 years.
If your business is less than 3 years, you can still get your certificate, but call us for this. Click here for details.
5. FIRS Tax Clearance Certificate
Federal Inland Revenue service is responsible for federal government taxes. So, every company must have a TIN from FIRS which controls the firm's payments for company income tax, VAT and Education Tax. Tax clearance is very inevitable if you must win a federal contract.
How to apply & obtain Tax Clearance Certificate
This is possible after rendering your tax annual returns. Therefore, you needed your company audited accounts. Tax computation and payments. Then, fill in the necessary FIRS annual return forms and applications with evidence of tax payment. Click here.
This is more of a professional matter. I advise you call us immediately, if you have this need. Contact us on +234 8034347851 or cfmclimited@mail.com.
6. BPP Federal Contractor Certificate
The Bureau of Public Procurement (BPP) registers companies as Contractors, suppliers, consultants or service providers for Federal government of Nigeria. Their responsibility is to process any procurement involving the Federal government agencies only. In fact, it's mandatory you obtain your CAC registration, ITF, NSITF, Tax clearance and PENCOM before proceeding with BPP registration.
This is a data base registration only. You don't have to visit BPP office for this. Everything is online.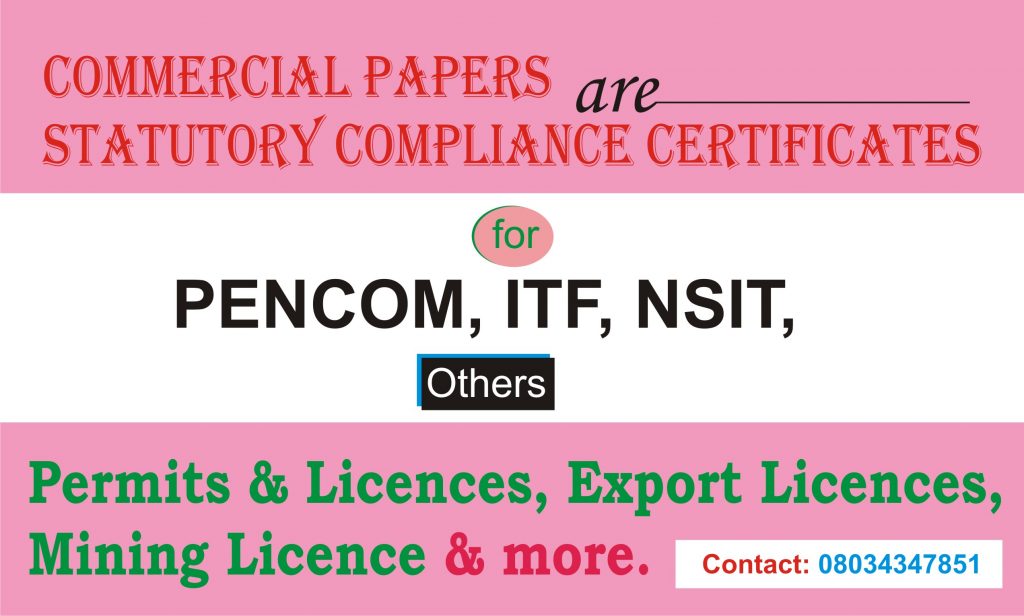 FINALLY @ When Does Compliance Certificates for Contracts Become Necessary in Nigeria? :
I am happy you have been able to read through this post. These are what you need to do to obtain that so much desired federal government contract. In fact, what we do is to work together with our clients to have all of these together. Complete Full Marks Consultants Limited is a firm of Chartered accountants, auditors, taxation and management consultants. So, we handle these cases from A – Z. You don't need any other intermediary.
Contact us today on +234 8034347851 or email us via cfmclimited@gmail.com.
Please Share for Us.
Do you have a friend who is at cross road as to how to handle these issues? Then, share this post to reach him/her. That will show that you care. If you like us on our Facebook handle you will also be happy for our updates. In fact, a click on any of our social media buttons will help you spread the news. Thanks for that.