Are you planning to register your business with CAC in Nigeria? Do you know the relevant form to do that?  As a matter of fact, here are the numerous CAC Incorporations Forms to work with. So, please, get your CAC incorporation forms here.
In addition, logon to public search cacgov ng comsearch, and get the relevant registration fees.
Registration INformation:
Furthermore, to ease your process of registration, note and get ready the following.
Means of Identification:
A copy of either the Data Page of International Passport,
Driver's license or
National Identity Card of every individual director,
Subscriber and secretary must be attached to this application.
For non-Nigerians only Data Page of International Passport is acceptable.
First Directors:
Directors must be individuals and not below the age of 18years.
Minors can subscribe to the shares of the company provided there re at least two other qualified persons.
A copy of Birth Certificate of every minor that is a subscriber issued by the National Population Commission or Data Page of International Passport must b attached.
Furthermore, where a corporate body is a subscriber or nominates a director to the board for a fixed term, a board resolution to that effect must be attached. In addition, for a corporate body registered outside Nigeria, a copy of certificate of registration duly translated if not in English Language must in addition b provided. 
Share Capital:
The minimum share capital for a private company is N10,000 and N500,000 for a public company.
At least 25 percent of the nominal share capital must b issued at all times.
A company limited by guarantee should not b registered with a share capital.
Foreigners that are directors or subscribers using Nigerian addresses must attach copies of their residence permit.
Other foreigners should use their residential addresses in their country of residence.
Memorandum and Article of Association:
This form must b accompanied by duly signed ad stamped copies of memorandum and articles of association.
Companies re required to adopt the applicable model articles in Table 'A' of CAMA. Any modification to the table must b highlighted and registered together with the memorandum.
A first director or subscriber can prepare and present the incorporation documents directly to the Commission for processing.
All asterisked fields on the form are mandatory.
GET YOUR CAC INCORPORATIONS FORMS HERE.
Overall, here art the relevant forms for your business incorporation with CAC, Nigeria. Therefore, download, fill and submit as necessary. Contact +234 8034347851 or email to cfmclimited@gmail.com for assistance.
COMPANIES:
CAC 1 AVAILABILITY CHECK AND RESERVATION OF NAME 
CAC 1 CHANGE OF NAME AVAILABILITY CHECK AND RESERVATION OF NAME
APPLICATION FOR REGISTRATION – CAC 1.1
CAC 1.1 CONTINUATION PAGE FOR FIRST DIRECTORS
CAC2.1 APPOINTMENT/CHANGE OF COMPANY SECRETARY
NOTICE OF CHANGE OF AUTHORISED SHARE CAPITAL – CAC2.4
CAC 2A RETURN OF ALLOTMENT (POST INCORPORATION)
Furthermore, CAC 2.7 APPLICATION FOR THE RE-REGISTRATION AND CONVERSION OF COMPANY
NOTICE OF SITUATION/CHANGE OF REGISTERED ADDRESS – CAC 3
CAC 7A NOTICE OF CHANGE OF DIRECTORS, OR IN THE NAME, RESIDENTIAL ADDRESS OR POSTAL ADDRESS OF DIRECTOR
CAC 8 PARTICULARS OF CHARGE
DECLARATION VERIFYING MEMORANDUM OF SATISFACTION OF CHARGE – CAC 9
GET YOUR CAC INCORPORATIONS FORMS HERE – FOR ANNUIAL RETURN FORMS
CAC 10 ANNUAL RETURN FOR A SMALL COMPANY
CAC 10A ANNUAL RETURN FOR A COMPANY HAVING SHARES OTHER THAN A SMALL COMPANY
ANNUAL RETURN FOR A COMPANY LIMITED BY GUARANTEE – CAC 10B
In addition, CAC 10C ANNUAL REPORT OF EXEMPTED FOREIGN COMPANY
CAC 11 STATEMENT BY LIQUIDATOR AS TO PENDING LIQUIDATION AND DISPOSAL OF UNCLAIMED ASSETS
Click here for more information
BUSINESS NAME:
CAC/BN/1 APPLICATION FOR REGISTRATION OF BUSINESS NAME
CAC/BN/2 NOTICE OF CHANGE IN BUSINESS NAME
NOTICE OF CESSATION OF BUSINESS – CAC/BN/6
CAC/BN/7 ANNUAL RETURNS FOR BUSINESS NAME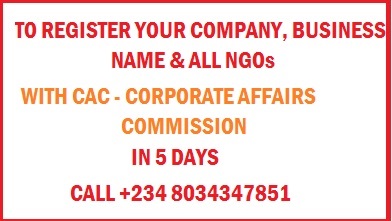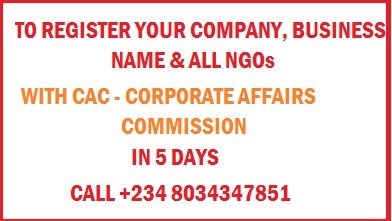 INCORPORATED TRUSTEES/NGOs:
CAC/IT 1 INCORPORATED TRUSTEES APPLICATION FORM
CAC/IT 2 CHANGE OF Incorporated Trustee NAME
CHANGE OF TRUSTEES – CAC/IT 3
Furthermore, CAC/IT 4 ANNUAL RETURNS (INCORPORATED TRUSTEES)
MODEL CONSTITUTION
MEMORANDUM AND ARTICLES ASSOCIATION
Click here to download any of the forms
GET YOUR CAC INCORPORATIONS FORMS HERE – The Next Step:
In fact, the next step is to contact us via +234 8034347851 or via email to cfmclimited@gmail.com. As accredited CAC agents we will assist you better at minimal costs.
Finally, if you enjoyed this post, please, share to reach others. Follow us on our Facebook platform too to get your updates regularly.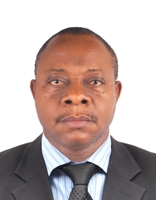 Founder/Managing Partner of Complete Full Marks Consultants Ltd. An Economist turned Chattered Accountant and Tax Practitioner with over 37 years of industrial experience.