There are 7, 000 people working for WHO across the globe, in  149 WHO offices in regions and countries  worldwide using 6 Official languages for communication.
WHO – We invite you to explore the many opportunities and benefits of joining WHO.
We offer professionals a unique opportunity to contribute to saving lives and support people's health worldwide. Candidates appointed to an international fixed-term position with WHO may be assigned to any activity or duty station of the Organization throughout the world.
EMPLOYER BRIEF:
World Health Organization (WHO) is the directing and coordinating authority for health within the United Nations system. It is responsible for providing leadership on global health matters, shaping the health research agenda, setting norms and standards, articulating evidence-based policy options, providing technical support to countries and monitoring and assessing health trends.

World Health Organization Recruitment – Field Security Officer For January 2022
We are recruiting to fill the position below:
RECRUITMENT DETAILS:
Field Security Officer
Ref No: 1703983
Location: Maiduguri, Borno
Grade: P4
Contract duration: 12 months
Schedule: Full-time
WHO  Programme Objective
The mission of WHO's Health Emergencies Programme (The Programme) is to build the capacity of Member States to manage health emergency risks and, when national capacities are overwhelmed, to lead and coordinate the international health response to contain outbreaks and to provide effective relief and recovery to affected populations.
 Duty Analysis
During deployment, the duty station may change, and duties may be modified, based upon the technical needs of the Programme:
Advise the Incident Manager and the Head of WHO Office with regard to maintaining the safety and security of WHO personnel, premises and assets in compliance with UNSMS and WHO Security Management Policies and Principles, monitor the implementation of the technical security measures outlined in the Security Plan, MOSS, and SOPs; ensure that the Country Office as well as the suboffices have an acceptable level of MOSS compliance.
Monitor the security situation across the county, coordinate and undertake security risk assessment for the Country Office as well as overall suboffices and provide the Head of WHO Office with independent analysis of emerging security threats to WHO personnel, operations, premises and assets. Facilitate the implementation of recommended mitigating measures.
Develop contingency plans and SOPs for the Country Office as well as for each suboffice, be instrumental in implementing the enhanced security measures; and ensure staff members are familiar and adhere with the related guidelines.
Design, in cooperation with the data team and the field coordinators, an effective and practical system to track WHO staff and responders throughout the country of assignment; ensure that all field coordinators send, on daily basis, an updated list of staff, consultants, partners and dependents present at their respective field locations.
In close coordination with Logistics team, ensure that all deployed staff and responders are provided with a mobile phone and a SIM card upon arrival, as well as hand-held radios where applicable, to enable establishing a SMS or other rapid alert systems to provide staff with relevant and real time information and updates about the prevailing security situation.
Increase the security awareness and conduct training for all WHO staff and nonstaff in accordance with WHO policies and UNSMS standards, provide briefing on radio communication, convoy, security and evacuation procedures and other security issues and precautions to be taken in compliance with the current measures prescribed by UNDSS and WHO.
Maintain updated security information, prepare periodical situation reports ensuring that the Head of WHO Office and the UNDSS are kept regularly informed of security situation, drawing their attention to pitfalls, needs, unusual situations and problems, proposing remedial actions and improvements.
Participate with the logistics team in identifying proper accommodations, with adequate security measures for all staff and responders, ensuring their safety and well-being
Ensure WHO's participation in the UN Security Cell. Establish contact with all relevant national authorities including national security agencies as appropriate.
Supervise and guide the Local Security assistant(s).
Perform any other incident-specific related duties, as required by the functional supervisor.
World Health Organization Recruitment – Field Security Officer For January 2022
Qualifications, Experience & Skills:
Education:
Essential: University degree in police science, business administration, political/social science, psychology or international relations or related field from an accredited/recognized institute, with focus on security management or equivalent in military or police academy degree or formalized qualifying training.
Experience:
Essential: At least seven years' experience in security management, at the national and international levels. Some experience in training and guiding staff on security issues.
Desirable: Experience in field mission of WHO, the UN, health cluster partners or recognized humanitarian organization would be an advantage.Security management experience in developing countries would be an asset.
Skills:
Demonstrated technical skills to understand/consolidate varying specializations such as electronics, communications, mechanics, explosives and other sophisticated devices encountered in security system management.
Tact, discretion and diplomacy.
Good knowledge of WHO field security operations and the specificities of the operations conducted within the framework of an outbreak and health emergencies.
World Health Organization Recruitment – Field Security Officer For January 2022
WHO Competencies:
Respecting and promoting individual and cultural differences
Moving forward in a changing environment
Producing results
Teamwork
Communication
Use of Language Skills:
Essential: Expert knowledge of English.
Desirable: Intermediate knowledge of French.
Remuneration
WHO salaries for staff in the Professional category are calculated in US dollars.
The remuneration for the above position comprises an annual base salary starting at USD 70,647 (subject to mandatory deductions for pension contributions and health insurance, as applicable), a variable post adjustment, which reflects the cost of living in a particular duty station, and currently amounts to USD 1489 per month for the duty station indicated above.
Other benefits include 30 days of annual leave, allowances for dependent family members, home leave, and an education grant for dependent children.
Application Closing Date
7th December, 2022
How to Apply
Interested and qualified candidates should:
Note
This vacancy notice may be used to fill other similar positions at the same grade level
Only candidates under serious consideration will be contacted.
A written test may be used as a form of screening.
In the event that your candidature is retained for an interview, you will be required to provide, in advance, a scanned copy of the degree(s)/diploma(s)/certificate(s) required for this position.
Candidates appointed to an international post with WHO are subject to mobility and may be assigned to any activity or duty station of the Organization throughout the world.
Applications from women and from nationals of non and underrepresented Member States are particularly encouraged.
World Health Organization Recruitment – Field Security Officer For January 2022
For Further Information:
If you must get further information on this recruitment through us, you have to submit your e-mail address through our Follow by Email platform on this page.
You can equally do so through clicking any of our social media handles on this page. If you want your contacts to have these information click the social media buttons under this page.
If you send in your comments through our comment box you will also be attended to.
Partner with us on referral basis on commission for business plans, auditing and taxation assignments. Company Incorporation , and Mining licenses.
World Health Organization Recruitment – Field Security Officer For January 2022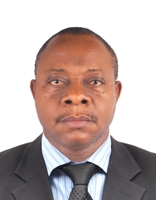 Founder/Managing Partner of Complete Full Marks Consultants Ltd. An Economist turned Chattered Accountant and Tax Practitioner with over 37 years of industrial experience.