OPEC Recruiting Systems/Network Specialist: All Nationalities – This type of recruitment requires your knowledge of OPEC recruitment in Nigeria 2021/2022 and Globally too. Then you should have a first hand understanding of OPEC jobs salaries, OPEC salary scale, and specific salary scales as OPEC Grade D salary and OPEC Grade E salary.
A indicated above, this is an All Nationalities job opportunity. It's open for both OPEC member state citizens and non-member state citizens. You just have to be qualified for this job to apply. Therefore, if you are so qualified and interested in this job, especially leaving your country to work in Vienna, please read through and apply adhering to every instruction given

OPEC Recruiting Systems/Network Specialist: All Nationalities
WORKING FOR OPEC:
As a matter of fact, working for OPEC is a great opportunity. The OPEC Secretariat is always looking for talented and qualified individuals to join its multinational team. This is  aimed at securing the highest standards of competency and efficiency to meet the standards required by its Member Countries.
Consequently, currently in its employment are 139 people from 38 countries around the world from scientific, technical, managerial and professional backgrounds. Its competitive employment packages offer a rich multicultural work environment with English being the official working language.
As at now, The Organization of the Petroleum Exporting Countries (OPEC) is recruiting a Systems/Network Specialist at its secretariat based in Vienna, Austria, for its Administration & IT Services Department.
RECRUITMENT DETAILS
Job Title:Systems/Network Specialist
Deadline: 5 February 2022-
Job Code: 10.3.04
Location: Vienna
Eligibility:  All Nationalities
Language: English
Core Responsibilities:
He/she carries out research and troubleshooting of network related problems leading to  improved performance between software and infrastructure;
Must  find peaks in Data Stream and provides for bottlenecks;
identifies future needs compared to general software and hardware development.
He/she must develop and implements new procedures to improve computer network services; and creates automated tasks to warn and prevent service errors and interruptions to limit total down time.
Another key responsibility is that of monitoring all installed servers for performance and security, searches for bottlenecks and access peaks and investigates for software settings; adjusts software parameters and finds security compromising services and tasks.
Therefore, he/she must strive to maintains and upgrade software/hardware installations, installs regular security patches, determines necessary hardware extensions and prevents hardware related service interruptions.
He/she should provide user support, troubleshoots user accounts and provides help to prevent further problems; identifies software errors and searches for software updates and patches.
Consequently, he/she must Keep abreast of technological development and runs tests on new software and hardware to identify improvements for the Secretariat.
Regularly examines trade magazines and attends computer trade shows to obtain latest information on technology that will benefit the Secretariat.
And carries out any other tasks assigned by the relevant superiors as pertain to his/her background, qualifications and position.
OPEC Recruiting Systems/Network Specialist: All Nationalities
Requirements:
University degree in computer science, information technology or
other science studies related to information technology
Professional certification in network operating systems and related technologies (preferably Microsoft OS)
Not less than 4 years of work experience
Networking concept
Microsoft, CISCO and VMware
Exchange e-mail server
Firewall concept
Computer hardware
Video & Web Conferencing
Communication skills
Analytical skills
Presentation skills
Interpersonal skills
Customer service orientation
Initiative
Integrity
Click for these recruitment information:
What the Job Offers:
Commensurate remuneration package (i.e. monthly basic salary of € 3,976 x 12 per year) with
tax-free benefits and
six weeks of annual leave.
OPEC Recruiting Systems/Network Specialist: All Nationalities
Applications:
Applicants should kindly complete the "Application Form" which can be downloaded from (www.opec.org) and send it to:
OPEC
Finance & Human Resources Department
Helferstorferstrasse 17
A-1010 Vienna – Austria
or Email: recruitment@opec.org
Online applicants should quote "Job Code 10.3.04" in the "Subject" field. An automatic reply will be sent to them to confirm the successful submission of the documents.
The deadline for receipt of applications is 5 February 2018. Acknowledgements will only be sent to short-listed candidates.
Good luck for this opportunity. Ensure you maximise it. Doing that will require you visiting this website from time too  time for your updates. If you click any of our social media button under this page you will ensure your regular updates. Again Good luck.
Click here
to get to know what else we can do for you.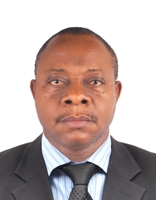 Founder/Managing Partner of Complete Full Marks Consultants Ltd. An Economist turned Chattered Accountant and Tax Practitioner with over 37 years of industrial experience.