U.S. Mission Abuja  Recruiting Fraud Prevention Assistant – This is an end of year recruitment.  It's another US embassy recruitment 2018 exercise in Abuja, Nigeria. If you wish to know about American embassy in Nigeria address and jobs in Lagos, here re details.  For now required is  Fraud Prevention Assistant in Abuja. Therefore, apply for  U.S. Mission Abuja  Recruiting Fraud Prevention Assistant. 
The U.S. Mission Abuja, Nigeria  seeks to employ qualified candidates for the position below.
U.S. Mission Abuja Recruiting Fraud Prevention Assistant

Job Title: Fraud Prevention Assistant
Announcement Number: Abuja-2018-077,
 Location: Abuja,
Series/Grade: LE – 1430 8,
Security Clearance Required: Public Trust – Background Investigation,
Appointment Type: Permanent,
Appointment Type Details: Indefinite subject to successful completion of probationary period,
Job Type: Full Time (40 hours per week),
Start date: Candidate must be able to begin working within a reasonable period of time (6 weeks) of receipt of agency authorization and/or clearances/certifications or their candidacy may end
U.S. Mission Abuja Recruiting Fraud Prevention Assistant
Duties
Basic Function of the Position – The incumbent reviews suspected fraudulent documents, makes preliminary judgment regarding authenticity. 
S/he interviews applicants presenting fraudulent documents and elicits information on where  documents were acquired, makes preliminary determination of bona fides, alerts consular officers to potential problems. 
S/he conducts verification and case assessment both over  phone and in the field, to verify  authenticity of documents and claims by applicants.
Directly supervised by Consular Fraud Prevention Manager .

U.S. Mission Abuja  Recruiting Fraud Prevention Assistant : Qualifications and Evaluations

Requirements:
Experience:  Four (4) years work experience as investigator or fraud examiner for  Police, Court, Law Firm, Insurance Company, Government or private agency  required.
Job Knowledge: 
Knowledge of  Nigerian legal system, bureaucracy, customs, family relationship norms, and ethnic groups, as well as knowledge of Nigerian financial fraud, specifically common techniques and trends. 
Knowledge of basic fraud detection techniques – forensic and interrogatory re required.
Education Requirements:
Bachelor's Degree in Law, Psychology, Forensics, or Criminology required.

U.S. Mission Abuja  Recruiting Fraud Prevention Assistant : Evaluations

This might be tested: Language: 
Level IV (Fluent) speaking/reading/writing in English .
Level IV speaking/reading Hausa, Igbo or any one of the over 500 local languages spoken in Nigeria required.
Skills and Abilities:
Ability to interview suspected perpetrators of fraud and other individuals to elicit information, detect document fraud, and produce logical and coherent reports of findings.
Proficient in Microsoft Office Suite with quick and accurate typing skills, and ability to learn the Consular Affairs software quickly.
Basic math is required.

U.S. Mission Abuja  Recruiting Fraud Prevention Assistant : Equal Employment Opportunity (EEO)
The U.S. Mission provides equal opportunity and fair and equitable treatment in employment to all people without regard to race, color, religion, sex, national origin, age, disability, political affiliation, marital status, or sexual orientation.
Benefits and Other Info

Agency Benefits:
Locally Employed Staff, including Members of Household (MOHs), and Third-Country Nationals (TCNs), working at the U.S. Mission in Abuja, Nigeria may receive a compensation package that may include health, separation, and other benefits.
For EFMs, benefits should be discussed with  Human Resources Office.
Pay plan is assigned at the time of  conditional offer letter by the HR Office.

U.S. Mission Abuja  Recruiting Fraud Prevention Assistant: Other Information

Hiring Preference Selection Process: 
Applicants in the following hiring preference categories re extended a hiring preference in the order listed below.  Therefore, it's essential that these applicants accurately describe their status on application. Failure to do so may result in a determination that  applicant is not eligible for a hiring preference.
Hiring Preference Order:
AEFM / USEFM who is a preference-eligible U.S. Veteran
AEFM / USEFM
FS on LWOP and CS with reemployment rights.
Important
Applicants who claim status as  preference-eligible U.S. Veteran must submit a copy of  most recent DD-214 ("Certificate of Release or Discharge from Active Duty"), equivalent documentation, or certification. 
A "certification" is any written document from  armed forces that certifies  service member is expected to be discharged or released from active duty service in the armed forces under honorable conditions within 120 days after  certification is submitted by  applicant.
The certification letter should be on letterhead of  appropriate military branch of the service and contain:

The military service dates including  expected discharge or release date; and
The character of service. 

Acceptable documentation must be submitted in order for the preference to be given.
This level of preference applies to all Foreign Service employees on LWOP and CS with re-employment rights back to  agency or bureau.
For more information (i.e., what is an EFM, USEFM, AEFM, MOH, etc.?) and for additional employment considerations, please Click here (Pdf)
Marketing Statement:
Salary
(NGN) N8,383,885
Application Closing Date
28th December, 2018.
How to Apply
Interested and qualified candidates should:
Click here to apply online

U.S. Mission Abuja  Recruiting Fraud Prevention Assistant: Required Documents

Please provide  required documentation listed below with your application:
Copy of Orders/Assignment Notification (or equivalent)
Residency and/or Work Permit
Degree (not transcript)
DD-214 – Member Copy 4, Letter from Veterans' Affairs, or other supporting documentation (if applicable)
SF-50 (if applicable).

U.S. Mission Abuja  Recruiting Fraud Prevention Assistant: Note
All candidates must be able to obtain and hold  Public Trust clearance.
All applicants under consideration will be required to pass medical and security certifications.
Applicants who re invited to take a language or skills test, or who re selected for  interview will be contacted via email.
For further information – complete position description listing all of the duties, responsibilities, required qualifications, etc. may be obtained by contacting the "Human Resources Office".
READ ALSO:
Follow us on our Facebook handle, tweeter handle and other social media to ensure regular updates. Just click the social media share button on this page.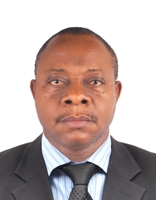 Founder/Managing Partner of Complete Full Marks Consultants Ltd. An Economist turned Chattered Accountant and Tax Practitioner with over 37 years of industrial experience.