RICE MILL BUSINESS PLAN: MILLING SYSTEMS
Rice Mill Business Plan: Milling Systems is a must read for all young entrepreneurs. This is because for a rice mill business plan, you need to rightfully understand the working of the mill system. This is becuase all the variables involved in this system relates to the business start-up expenses and operations. Therefore, you have to know the components of the milling plant, their cost and installation cost. In addition to this is to assess the working capital need of the business through the operation of the mill. In summary the sum total of the fixed cost and the variable costs give you the total cost of the business. Then, it becomes possible for you to bench mark this expenses and use them for your business projects into weeks, months, and years.
Why You must Read this
This is why you must read this article. In it re all you need to know about the milling system that will aid you plan your business properly. Therefore, be you a starter, an existing business, a young entrepreneur, profesional business plan writer and even internal control consultants and officers, this post will help you make some of your managerial production (economic) decision.
RICE MILL BUSINESS PLAN: MILLING SYSTEMS – RICE MILLING SYSTEMS
Rice milling system can be a one simple process or two step process. It could also be a multi stage milling process.
In a one simple step process, husk and bran removal re done in one pass and milled. That is to say, white rice is produced directly out of paddy.
Then, in two step process, removing husk and removing bran re done separately. That means brown rice is produced as an intermediate product.
Thirdly, in a multi-stage milling, rice will undergo several number of different processing steps.
Depending on what method and location, village milled rice which are consumed locally re distinquished with commercial mills which re meant for general market. This means that more care is taking in commercial milling. Our concern here is commercial milling that is what suites our business.
RICE MILL BUSINESS PLAN: MILLING SYSTEMS – RICE COMMERCIAL MILLING
In other to fit in for proper commercial business for good product, this uses multi-stage or multi-pass rice milling system. This means that commercial milling system mills the paddy in stages.
The objective of stage by stage rice milling is to reduce mechanical stresses and heat buildup in the grain. This therefore, helps to minimize grain breakage and to produce uniformly polished grain.
The sophistication of this step by step system depends on how the entire machanism is configured to maximize the process of producing well-milled, whole grains.

RICE MILL BUSINESS PLAN: MILLING SYSTEMS – Mill Configuration:
The rice milling facility comes in various configurations, and the milling components vary in design and performance.
The components re configured into a particular flow of operational sequence. A modern commercial mill catering to higher end market has three basic stages;
Husking stage,
Whitening-polishing stage, and
Grading, blending, and packaging stage.
This understanding is good for your business planning process. Now, you can group the equipment requirement as per these stages highlighted above. So, think of why you must follow this method.

RICE MILL BUSINESS PLAN: MILLING SYSTEMS – Reasons for commercial milling
Yes! Why must you adopt commercial mmiling process for your business?
You have to do that because a commercial rice miller will have following objectives:
You want to produce edible rice that appeals to the customer- i.e. rice that is sufficiently milled and free of husks, stones, and other non-grain materials
Again, you will need to maximize the total milled rice recovery out of paddy,
Also, you will need to minimize grain breakage
Finally, you need to optimize productivity. Efficient productivity increases output and reduces unit cost of production. This means high return on investment.

RICE MILL BUSINESS PLAN: MILLING SYSTEMS – RICE MILL CONCEPTS/ DEFINITIONS
If you have gone through the write-up above, you will need to understand the objective of rice milling through understanding of the following terminologies in rice milling:
Rough rice/ paddy rice – This is the raw rice as it comes from the field. where the rice kernels are still encased in their inedible, protective hull.
Brown rice/ husked rice/cargo rice – The first stage of rice processing produces this. Even though rice at this state has the outer hull removed, it still retains the bran layers that give it a characteristic tan color and nut-like flavor. Brown rice is edible. But then, it has chewier texture than white rice. Cooking time of brown rice is also longer than milled rice
Milled rice/white rice, or rice after milling – This comes after removing all or part of the bran and germ from the rough rice.
Milling recovery – This defines the per centge of milled rice obtained out of total paddy under process. The standard maximum milling recovery is said to be 69-70% depending on rice variety. Some village type rice mills have 55% or lower milling recovery.
RICE MILL BUSINESS PLAN: MILLING SYSTEMS – Further concepts.

Milling degree – This shows the amount of bran removed from brown rice
Head rice – Milled rice which has length greater or equal to three quarters of the average length of the whole kernel.
Head rice recovery – Weight percentage of head rice (excluding brokens) obtained from a sample of paddy. Under controlled conditions head rice recovery can be as high as 84% of the total milled rice or 58% of the paddy weight. Commercial rice mills turn out 55% head rice on average, whereas head rice recovery of village type rice mills is in the order of 30%.
Whole kernel – That's a milled rice grain without broken parts
Broken kernel/brokens – Depending on the rice mill this can be only one fraction or it can contain several fractions of different size:
Large broken kernel: 50-75% of the whole kernel size
Medium broken kernel: 25-50% of the whole kernel size
Small broken kernel: less than 25% of the kernel size, can not pass through a sieve with 1.4mm diameter holes
Chips: fragments of a kernel which pass through a sieve with 1.4mm diameter holes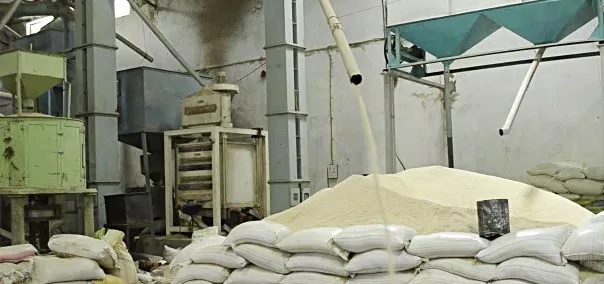 Impurities – Materials in the rice that are not part of the milled rice kernel. May include stones, husk, chaff, weed seeds, etc.
I believe that by now, you would have understood what is involved in modern rice-milling proceses. Yet, these could be summarried in another form for better understanding.
RICE MILL BUSINESS PLAN: MILLING SYSTEMS – THE MODERN RICE PROCESS/MILLING
In summary, the modern rice milling processes consist of the following functions and stges:
Function Stage
Removing all impurities and unfilled grains from the paddy – Pre-cleaning
Removing the husk from the paddy – Husking Separating the husk from the brown rice/unhusked paddy – Husk aspiration
Separating the unhusked paddy from the brown rice – Paddy separation
Separating small stones from the brown rice – De-stoning
Removing all or part of the branlayer and germ from the brown rice – Whitening
Improving the appearance of milled rice by removing remaining ran
particles and by polishing the exterior of the milled kernel -Polishing
Separating small impurities or chips from the milled rice – Sifting
Separating small and large brokens from the head rice – Length grading
Mix head rice with predetermined amount of brokens,
as required by the customer – Blending Preparing milled rice for transport to the customer – Weighing and bagging
READ ALSO:
RICE MILL BUSINESS PLAN: MILLING SYSTEMS – What We Offer You:
Giving out of business information.  As professional accountants and management consultants, we know so much about your business. So, whatever information you need we could offer you.
Incorporation services as part of your business start-up processes or regularisation of an existing business with C.A.C. That means, we register your business name or incorporate your company, NGOs, Unions, Associations, town meetings, churches etc.
We also help you render your C.A.C annual returns.
Tax Management – Your tax clearance and anuual tax returns
In addition, we structure your business in a functional business plan.
RICE MILL BUSINESS PLAN: MILLING SYSTEMS – Contacts: +234 8034347851 or cfmclimited@gmail.com
Follow us on any of our social media platforms. Just a click on any will get you connected for regular updates.