Here are Strategies to Nurture & Grow Your Business
Here are strategies on how to nurture and grow your business. This is the same as saying, how to maintain, sustain and nurture a business relationship. To nurture a business means to take actions to care and protect the business while it grows. In order to thrive as an entrepreneur, one first thing is essential. That is, you need to be prepared to dive headfirst into business.  And then to treat each setback or challenge encountered as a valuable lesson, a stepping stone, to pocket away for future reference. Get more information on Here are Strategies to Nurture & Grow Your Business
In addition, in your entrepreneurial journey, you will only manage to generate a number of profitable businesses, if you are also ready to make your fair share of mistakes along the way. As you can see, the beauty of hindsight is very invaluable. This is because they are what would allow you to prosper moving forward and discover what it takes to cultivate, nurture and grow a successful business.
Here are Strategies to Nurture & Grow Your Business
In this write-up, we bring to you those strategies that will help you nurture and grow your business. As is in our manner, we try to arouse your understanding of this concept by raising such relevant business questions that will enable you flow along as you read this post. Such questions as:
Why is it important to nurture business relationships?
How can I make my small business successful?
How can I grow my small business?
What is seed capital?
With it, can I grow my business?
How do you start a business relationship?
How successful re small business owners?
What roles does internal control in nurturing my business?
Furthermore;
How do you know if your business is successful?
How can I scale my business quickly?
At what point do I introduce venture capital in my business?
How can a small company grow big?
How long does it take for a business to be successful?
With all of these, How would I avoid looming business failure?
..will help you relocate yourself in the prose of discussing this concept. We advise you stay put reading this article for your business success.
Strategies To Nurture & Grow Your Business:
To do justice to this topic, we will divide it into two stages. The Start-up stage and Growth Stage.
The Start-up Stage:
This is the stage of generating business ideas and putting them together. From this stage you can avoid business failure by taking your time and planning out all the necessary steps you need to achieve success. Therefore,
Get Organized – be yourself. Check what talent, skill and qualification you have. Get your business plan done by professionals  like Completefmc Limited. Get every regulatory and legal framework done by us. Again, do your feasibility analysis including your marketing and financial projections. We are good at these as professional accountants.
Set up your management team. Even if it's husband and wife, just know that you are a team in business and not for marriage. Find out and define your SWOT analysis. Your business strength, weakness, opportunities and threats will mean so much for the success of your business. Availability of capital, business location, proximity to market and other sources of your business resources will mean much to you. So, work on them before you start.
Keep Detailed Records – From the onset, learn to keep proper business record. Make sure your internal control system – administration and accounting are working well. If you can not afford these, you can outsource it to Completefmc Limited to manage.
Analyze & Work on Your Competition – Please, don't ignore competition. You must learn how to do the same thing others are doing, differently. Get to know your competitors strength and weaknesses. They will help you know how to attack the market.
Here are Strategies to Nurture & Grow Your Business
Understand the Risks and Rewards – Many entrepreneurs don't know that risk is associated with reward. Don't be what we call here in Nigeria " father Christmas". Let business be business with its associated rewards. Then, know when to take risk, avoid it or insure it. In fact, you can tactically transfer it to another entrepreneur. In summary, always play safe.
Be Creative – This means you have to use your talent, brain, knowledge to do things differently. Make sure you add value to your goods and services. And ensure that your clients/customers get value for their money. That will be reason for coming back next time.
Stay Focused – This is said to mean " directing a great deal of attention, interest, or activity towards a particular aim". So pay attention, have interest in your business.
Prepare to Make Sacrifices – I can say that entrepreneurship is synonymous with risk taking. And that also means making sacrifices. Remember that business comes before pleasure. Be in your business place in time and take every business decisions promptly.
Provide Great Service – In addition, let your service be great. Pay attention to your clientele. That is how to generate return customers. If your customer group is made up of 60% return buyers, you are great then.
Growth Stage:
This is the state of nurturing your business and see it grow. You can see your business growth in turnover, net profit after tax, low administrative cost, net asset growth, high per centage of market share etc. Therefore, after going through the start-up process and passing through the associated teething problems, it's time to stabilise and grow your business.
In this connection, you would want to ask – How can I make my small business successful? Or How can I grow my small business? Listed under are some of the steps you could take to growth your business and make it successful.
Stabilise a customer management system – This you can do scientifically or manually. Whichever way, make sure you have a system on how to manage your customers in place at all time. Lean to reward them and review the system from time to time. That is how to create a customer loyalty program. 
Research the competition – This means that your eye must always be on the competition. As enumerated above, find out what you can do to beat the competition. Check out your competitions strength and weakness and work on them.
Identify new opportunities – Business expansion and growth  go together. New opportunities are the drivers.  R & D – Research and Development is an important business growth strategy. If you invest in this you will reap the reward for a long time.
Here are Strategies to Nurture & Grow Your Business
Build a communication list – This is part of your internal control system. Mak sure it's working. Don't take mails, phone calls, and other communication media for granted. Keep a good record of them and then reply your correspondences promptly.
Form strategic partnerships – As the name implies, strategic partnership  will keep your business moving. These are your collaborators, peers, and trusted business associates. Don't play with them and the relationship.
Leverage global platforms – See, I am not an importer, but I attend importers meetings and seminars. I try my best to be globally connected. Where it demands a foreign tour, I join. Can you do the same thing?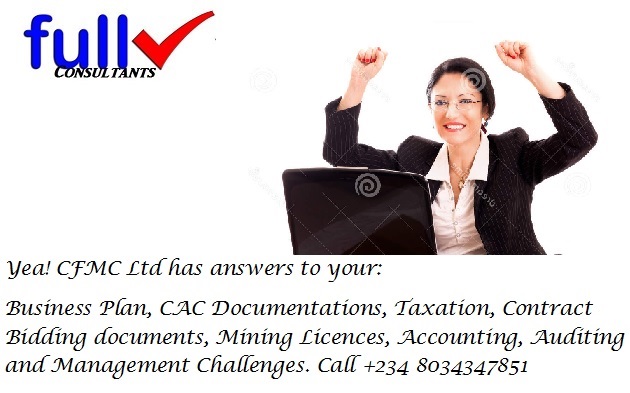 Here are Strategies to Nurture & Grow Your Business
Read Also:

How You May Avoid Looming Business Failure  
Strategies to nurture and Grow Business
A Step Forward:
This is the step forward. If you have any of the above factors as a challenge in your business, Complete Full Marks Consultants Limited could help you out. We will do your accounting and auditing (internal control system), tax management, business plan, CAC documentations. Obtain your mining licences and process your contract bidding compliance certificates, like, PENCOM< ITF and ITF compliance certificates. As Chartered Accountants we can do more than these for you. Contact us through +234 8034347851 and cfmclimited@gmil.com
Share this article by clicking on any of our social media buttons on this page. Again, follow us on our social media platforms for your regular update.