2019 Civil Service Promotion Exams Questions on Pension Matters
Considering the fact that many civil servants who attend civil service promotion examinations are due for retirement soon after their promotion exams, issues relating to retirement are always part of the questions in the examinations. This is also relevant for those who work in these related departments who aspire to be promoted for such assignments in new intended departments. 2019 Civil Service Promotion Exams Questions on Pension Matters, is here to assist you pass your exams and enjoy your new positions.
That means, you should be able to read through this post to have the information first hand. Just be the first to know about these issues. In fact, you can make it a group reading thing with your friends. If you need more article on this topic just google " civil service exams/completefmc" to have all the articles on this website that relate to this topic. Do us well to share it to reach others too. It's free!
Furthermore, this post relates to civil service exam questions and answers 2019, types of promotion in civil service, civil service past question papers. Others include federal civil service commission interview questions and federal civil service commission promotion list 2019.
2019 Civil Service Promotion Exams Questions on Pension Matters
What are the 5 objectives of the new Pension Act, 2004?
These include to –
Set a higher standard of probity and accountability
Provide a robust, sustainable and efficiently managed pension scheme in both government and private sector,
Assist individual employees make savings in order to take care of themselves at old age,
Encourage the improvement of the pension management structure in Nigeria and then create job opportunities for Nigerians.
Ensure that pension fund administration open mandatory retirement saving accounts for pension beneficiaries,
Ensure continuity in the standard of the employees in both the public and private sector on retirement from active service.
List those exempted from this new pension reform (Act)
Those exempted from this scheme when it started according to section 8 of the Act were:
Civil / public Servants who had only 3 year to retire
Judicial officers a contained in section 291 of the 1999 constitution
The military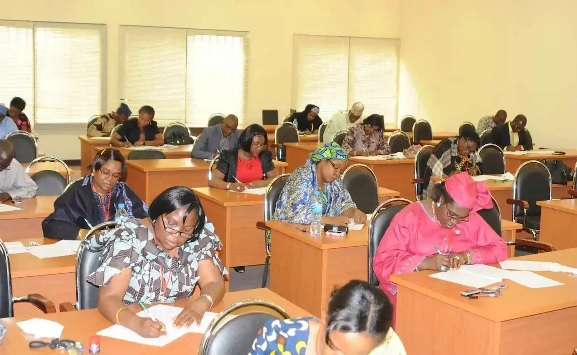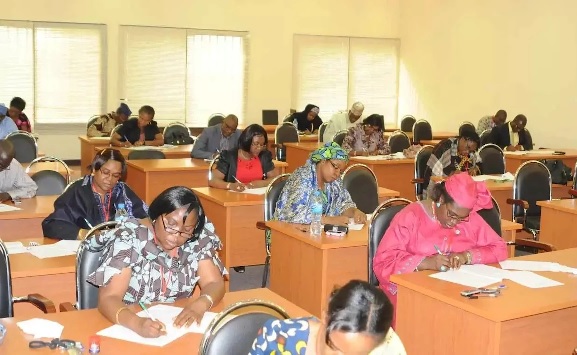 What is the contribution rate according to section 9 of the Pension Reform Act, 2004?
Federal government workers – parastatals and extra-ministerial departs inclusive.
Employer – Minimum contribution 10% of annual emolument
Employee – a minimum of 8% of annual emolument
Private Sector: All inclusive.
Employer – Minimum contribution 10% of annual emolument
Employee – a minimum of 8% of annual emolument
How many years are you required to serve to qualify for pension and gratuity?
As a matter of fact, for you to qualify for retirement gratuity you must have put in 5 years' service.
Then to qualify for both gratuity and pension benefits you must put in at least 10 years in service. Overall, is that you must not be below 45 years in age at the time of your retirement.
2019 Civil Service Promotion Exams Questions on Pension Matters
Can you list out the documents required for the computation of your retirement benefits?
Furthermore, there are documents you must supply to your department/office to enable proper determination and accurate calculation of your pension benefits. The documents include:
Gazette and other first appointment related documents,
Gazette and other confirmation of appointment documents,
Letter of last promotion
Birth certificate or court declaration of age
Letter of retirement
Letter of acceptance of retirement
Certified true copy of updated record of service
Certified true copy of last personal emolument card
Audited computation sheets,
Clearance certificate of indebtedness to government
Approval of secondment/transfer from one service to the another,
Approval of merger of service where applicable
Sealed letter of administration, where applicable
Duly signed carbon copy of payment vouchers in respect of gratuity,
Pension form No. 62 (in duplicate) with two recent coloured passport photographs.
Can you state 3 or more circumstances under which pension or gratuity are paid?
Voluntary Retirement: This where you retire voluntarily because you have put in the required 35 years of service or attained the statutory age of retirement.
On compulsory retirement: This is always due to reorganisations in the organisation.
If person is Invalid: A medial board must investigate to find out that the officer is no longer capable of carrying out his/her assignments due to mental or physical challenges.
On total or permanent disablement while on active service
On abolition of office, where the officer cannot be transferred to another office,
To take appointment in the local government with the approval of the head of service.
2019 Civil Service Promotion Exams Questions on Pension Matters
Our Requirement:
We appreciate many of you who read our civil service related posts on this website. We appreciate your comment and your request for updates.  But then, what we require from you is to follow us on any of our social media platforms.  And any share you make to reach your contacts is also a plus for us. That's all we require from you.  To make maximal use and benefit of our civil service exam related post, just google your topic and add completefmc to it. E.g. 2019 civil service exams/completefmc will pop out for you all of our articles on this. Again, you can use our search button on this page. Just type in civil service exams, you will have what you want.
READ ALSO: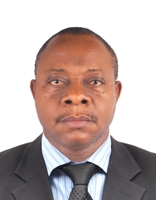 Founder/Managing Partner of Complete Full Marks Consultants Ltd. An Economist turned Chattered Accountant and Tax Practitioner with over 37 years of industrial experience.