Sample Palm Oil Business Plan for Start-ups in Nigeria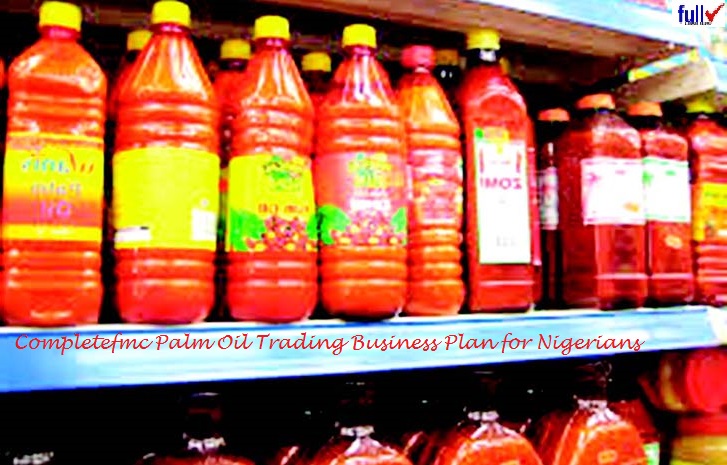 Are you interested in palm oil business in Nigeria? If your answer is YES, then this business plan is for you. Along the Palm Oil business value chain are sample palm oil processing plant business plan template, palm plantation business plan in pdf, feasibility cost of setting up a palm oil mill in Nigeria and business plan for palm oil distribution, stocking, wholesales, and retailer-ship. Therefore, whichever one you need, this business plan gives you insight into how to go about the business. Just follow us for your Sample Palm Oil Business Plan for Start-ups in Nigeria .
Palm Oil Business Ned & Solutions:
When do you need Sample Palm Oil business plan for Start-ups in Nigeria? When you want to serve people and make money? Yes! When there is need or challenge in the society, you think of a solution.  This must be your heart desire. To find solution to societal need and then make money out of it. This plan is the road map to the solution you proffer for palm oil business challenges in Nigeria. So, get your palm oil business start-up plan here. It's for both Private and Corporate bodies – Clubs, market groups, corporative society etc. This palm oil Business Plan in Nigeria is suitable for all. In fact, this plan model is so simple to write and use.  Find out how to get a comprehensive copy from us today.
Sample Palm Oil Business Plan for Start-ups in Nigeria
This Sample Palm Oil business plan for Start-ups in Nigeria will help you win government and non-governmental approvals and grants. It will help you generate the required capital through investors, grants and loans. Therefore, we are putting in place in this post all essential elements of the business plan to enable you achieve these. So, there are here, your palm oil business marketing plan strategies, feasibility and SWOT analysis together with the desired management structure.
RELATED TEMPLATES:
Sample Palm Oil Business Plan for Start-ups in Nigeria – INTRODUCTION:
Palm oil has a high global demand because of its many advantages. First, it's the highest-yielding vegetable oil crop, a unique ingredient in many food processed products and pharmaceuticals because it has great cooking properties which are maintained even under high temperatures. Therefore, the global production and demand for palm oil is increasing rapidly which is affecting its demand locally. So, as both a local cash crop and international foreign exchange earner, palm oil business is today a very lucrative business in Nigeria.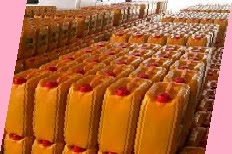 This Palm oil business will base its operations using all manner of marketing strategies to achieve high, and profitable business. It will take necessary steps to explore every existing gap in both the supply chain and demand chain of the produce in every locality in Nigeria to maximise our benefits. These include, rural markets, milling plants, farmers' corporative societies, medium and large scale distributors and super markets. Other avenue to explore is a direct link with palm oil exporters with a possible view of collaborating with them for exporting our goods. We will also be serving key niche markets where demand is either unmet or poorly served. We will always endeavour to meet up with seasonal surge on certain key producing localities due to seasonal  supply and demand.
Sample Palm Oil Business Plan for Start-ups in Nigeria
In addition, the proposed Palm oil business will be designed and operated utilizing, the most up-to-date electronic, informational, and marketing technologies. This is to ensure low operating and marketing costs. There will be maximum efficiency in deployment of our resources, and a high level of customer service.
Sample Palm Oil Business Plan for Start-ups in Nigeria – COMPANY PROFILE
We have taken every step to legalise the existence of Our Palm Oil trading business, the proposed business. The operational licences are being processed right now. These include C.A.C certification, local government trading and market group trading certificates.
According to our overall organizational plan, the ownership is by Mr and Mrs Hoja and family members. It's going to be entirely a family affair, and so there is no need of outside investors. All the investment fund required for now is being provided by this family.
OWNERSHIP:
Currently, ownership is by Mr and Mrs Hoja and family members. The overall plan is that it shall go on as a family business. Therefore, it's not envisaged that an outsider investor will be involved. All the investment fund required is being provided by this family. However, whenever the growth of the business requires the involvement of other investors, we are prepared to discuss and negotiate specific ownership arrangements in detail with prospective investors. Equity requirements re discussed in the Start-up Summary that follows.
GOALS:
The following re the goals for Sample Palm Oil business plan for Start-ups in Nigeria.
To become a household name in palm oil business in Nigeria by 2023
To establish three more distribution outfits in Umuahia, Calabar, and Owerri respectively, within the next  two years.
And, to hit a turnover landmark of N20,000,000 in our second year of operation.
Sample Palm Oil Business Plan for Start-ups in Nigeria – OBJECTIVES
Our Palm oil business will have as its primary objectives the following elements:
To establish and operate  new  trading outlets in other states in the South East and South South geopolitical zones of Nigeria in the next 3 years.
To implement an organizational and marketing strategy that will achieve an average turnover of N3,000,000 per month with effect from July 2019.
Therefore, to achieve net operating profits in the range of X% of the total revenue in the first year of operation.   
To achieve the projected results starting with our trading outlets in Umuahia Eze in 2019
Gear operations, and present a professional, serious, growth-oriented image from the outset. This will set the stage for seasoned, planned expansion, mirroring growth rates projected for the first year of operations.
Identify and develop key trading alliances, co-operations, associations, and partnerships with other larger palm oil trading companies.
MISSION
Our Palm Oil trading business' mission, simply stated, is to fill a niche in the growing palm oil market all over Nigerian. Our mission is to achieve high, and profitable business by identifying and serving key high profile palm oil demand areas currently unserved, under-served, or poorly served.
Furthermore, to set a new standard for Palm oil trading business both within the target market areas and beyond. We will do this by utilizing the latest ICT – information technologies, and by designing effective and efficient management systems that builds in quality control from the outset.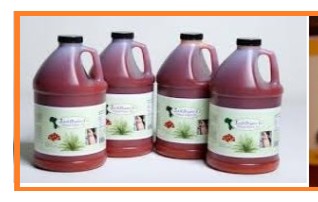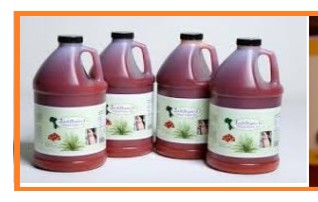 Therefore, we aim at ensuring the highest level of service and operations, all based around the needs, wants, comfort, and convenience of our target market. These will help us build strong customer satisfaction and excellent reputation that will enable the business build solid, and crucially important, inter-trading arrangements necessary to sustain the scope of our operations and customer attraction in the early stages. Our belief is that these will lead to continued long-term growth both within the target market area and, looking toward the future, beyond.
VISION:
Our vision for Sample Palm Oil business plan for Start-ups in Nigeria is to become a leading Palm oil business company in Nigeria in the nearest future.
Sample Palm Oil Business Plan for Start-ups in Nigeria
WHAT WE BRING INTO THE INDUSTRY:
We bring the following into the Palm oil trading business in Nigeria to revolutionize it.
The provision of high-quality palm oil all year round
The provision of high-quality service to our target market and to those other market currently unserved or poorly served.
Employment of technically cost-effective, up-to-date tools and mechanisms that suite the size of the market we want.
Utilization of the latest electronic and informational technologies in sales and marketing;
Online palm oil purchase and reservations.
Development and implementation of co-operations, associations, and partnerships among other palm oil key trading companies.
Sample Palm Oil Business Plan for Start-ups in Nigeria –  START-UP ANALYSIS:
As a matter of fact, this Start-up analysis include all outcomes of our initial surveys and feasibility analysis. They are those that concern our initial capital and operational expenses. Others include our marketing and turnover forecasts and financial projections etc. They are highlighted as follows.
CAPEX & APEX:
Our initial capital expenses (CAPEX) are all fixed tangible and non-tangible expenses. They are those covering the fixed assets and tools to be purchased. Others are, plant and equipment, furniture and fittings, motor vehicles and statutory registration payments, etc. The table below shows the spreadsheet analysis of this.
INTENDED SERVICES:
The services to be offered by our palm oil trading company will be divided into three main categories. These are palm oil stocking, distribution and retail. Services to be rendered by each category as well as general services to be offered, are presented and reviewed as follows.
MARKETING ANALYSIS & SEGMENTATION:
Our marketing segmentation will be as follows.
The Business Public
Government Agencies
Palm Oil Milling Plants
Medium and Large Scale Super Markets.
Palm Oil Distributors
Palm Oil Exporters
Oil Processing Plants
Pharmaceuticals
Food Productions Outlets
Sample Palm Oil Business Plan for Start-ups in Nigeria – OTHER COMPONENTS:
Competition & Patronage Pattern analysis, Key to Our Success are analysed and attached as appendix II.
FEAIBILITY ANALYSIS:
In other words, everything about this feasibility analysis, financial budgets, fund applications, income statements, breakeven analysis and fund flow statement are analysed in our worksheet – available on request.
Sample Palm Oil Business Plan for Start-ups in Nigeria – CONCLUSION:
Actually, the conclusion of this post is based on your ability to order for your own copy. Order your copy from +234 8034347851 or email: cfmclimited@gmail.com. Every unattached spreadsheet and graphs are included in the comprehensive copy. Just send a mail today to order for your copy. We will require your personal details to customise your ordered copy. All of these at a minimal cost.
READ ALSO:
Do you know you can get more business plan samples and templates here? In fact, we wish to inform you that everything you need about Business plan is in this site. Therefore, we feel you should first navigate and explore what you have here before looking elsewhere. So, we recommend you use:
Google site search for completefmc. That is, type whatever you want to search for on google by adding /completefmc at the end to get you right inside this site. e.g.  palm oil  business plan templates/completefmc  will take you to other such posts on this site. Just try it now.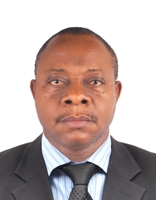 Founder/Managing Partner of Complete Full Marks Consultants Ltd. An Economist turned Chattered Accountant and Tax Practitioner with over 37 years of industrial experience.