This is a question that deserves answers from every business man and woman in Nigeria. The reason is that many seem not to know why the annual returns are necessary. This post will address that and in fact the consequences of non-compliance. So, be ready to give answer to When Does C.A.C. Annual Returns Matter in Nigeria?
CAC annual return is a mandatory requirement every enterprise or incorporated trustees must satisfy annually. This is by delivering to CAC a return in the prescribed form containing specified information related to the organisation in accordance with Companies and Allied Matters Act (CAMA).
When is Annual Return Filing due?
Every C.A.C. registered organisation must perform this annual ritual. Your new companies may not file its first return within the first 18 months of its existence. However, the older companies make their annual returns no later than 42 days after its Annual General Meeting.
When Does C.A.C. Annual Returns Matter in Nigeria? – Delisting of Organisations:
Information shows that, in the last three years more than 40,000 names of registered companies have been deregistered. That means, they have been removed/delisted from Corporate Affairs Commission (CAC) data base for non-performance and dormancy. This exercise was carried out to make sure that only relevant companies remained in the database of CAC. However, delisted companies could still reapply for registration.
Therefore, Nigerian firms still operational have been advised by the Corporate Affairs Commission (CAC) to file their annual returns or face delisting from its register.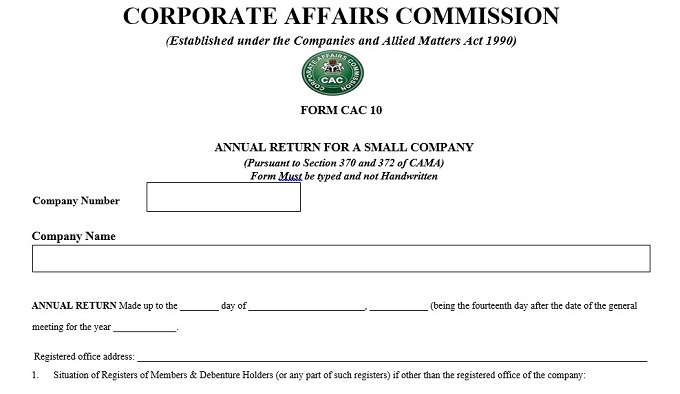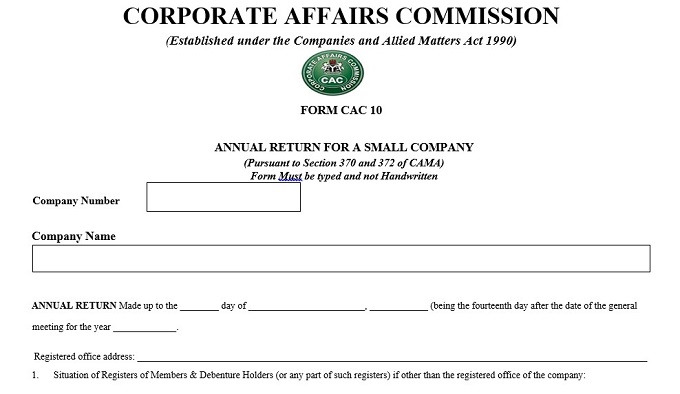 When Does C.A.C. Annual Returns Matter in Nigeria?
Why Does This Matter:
The filing of annual returns is the commission's means of ascertaining company's performance or non-performance. Therefore, the filing of the annual returns by a company keeps the commission abreast of its existence.
In addition, such a voluntary compliance makes organisations avoid being penalised. If you understand that the penalty is 100% of the defaulted fee, you then understand that it could run into millions of Naira. In fact, it's a huge challenges for many companies today. Unfortunately, too, many organisations cannot make changes or retrieve lost documents (Certified true copies) because their annual returns are not up-to date.
Furthermore, if your company's information with the CAC is not updated, such will affect the organisation being registered under the Bureau of Public Procurement (BPP) – data base. Therefore, companies that execute contracts could have difficulties in bidding for contracts.
Companies that want to do business must be on the Bureau of Public Procurement and before you are registered with BPP you must be up to date with CAC.
When Does C.A.C. Annual Returns Matter in Nigeria? – Filing Procedure for Annual Returns:
Obtain CAC Form 10
Fill accordingly.
Get assessment for payment at relevant  CAC desk.
Make payments and get your receipt.
Attach necessary supporting documents – e.g your financial statements
Submit application.
Get your Annual Returns copy for the year(s) paid from CAC.
When Does C.A.C. Annual Returns Matter in Nigeria?
What Next:
Get a professional for this immediately.
Now you understand the consequences of not making your organisation's annual returns. Or, in fact making such returns very late. And where you delay for up-to 5 years and above, it becomes too difficult to do so. Many have opted to registering new company instead of making the returns that have amounted to hundreds of thousands of Naira.
Again, you understand too that it's not just payment of annual returns that matters too. There are relevant documents required for filing annual returns.
Our Contacts:
Contact us today to take away this burden from you. As accredited CAC agents, we will ensure you do your returns regularly and in time. We can help you clear the arears within 5 working days any time you are ready to do so. Our fees are the cheapest.
Contact us on +234 8034347851 or cfmclimited@gmail.com.
You can help us share this to reach others. Somebody will be grateful for your deed. Pose this question: When Does C.A.C. Annual Returns Matter in Nigeria?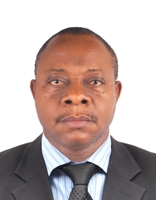 Founder/Managing Partner of Complete Full Marks Consultants Ltd. An Economist turned Chattered Accountant and Tax Practitioner with over 37 years of industrial experience.