HOW DOES AGSMEIS LOAN APPLICATION WORK? This is the thrust of this post. How to apply for CBN loan 2020. It's all about latest news on AGSMEIS loan and disbursement. As a matter of fact, it's about our small and medium enterprises (SME) loan certification training centre and application form. So follow us on this post for details of AGSMEIS Loan Application Scheme @ nirsalmfb.
Business Solutions:
As a matter of fact, if you are a start-up entrepreneur, this post is for you. In fact, if you are an existing entrepreneur you have a lot to benefit from here.  Notice the similarity between how do I apply for a Nirsal loan? And, how can I apply for Nirsal microfinance loan? This post will give you answers for them. They provide the derived business solutions you need. You just have to read on. Well, the answer is on, how do I apply for Agsmeis loan?
HOW DOES AGSMEIS LOAN APPLICATION WORK? And Other Frequently Asked Questions include:
How do I access the Loan?
To start with, get trained by first selecting a CBN-Certified Entrepreneurship Development Institute (EDI). In fact, we are collaborating with SMEDAN to provide this for you. Therefore, we will guide you through the loan application process. We will also ensure that all your documents are complete and documented.
What is the interest rate for this loan?
This is the next question. In fact, the interest rate is a flat nine percent (9%) per annum.
Do I need collateral?
The next answer is, No. In fact, this loan scheme does not require a collateral.
How long will it take for me to receive the fund?
As a matter of fact, this loan scheme is designed to be easily accessible. In fact, for this, the entire process is automated. As a matter of fact, from the application submission to disbursement it takes six(6) to eight(8) weeks.
Has disbursement started?
Yes.  We have disbursed over N25B and this is still ongoing.
HOW DOES AGSMEIS LOAN APPLICATION WORK? – RELATED TOPICS:
AND, NOW HOW DOES AGSMEIS LOAN APPLICATION WORK?
Now, relax and go through this process.
Step 1 – Get Trained.
First, attend a compulsory training with a CBN certified Entrepreneurship Development Centre (EDC). Contact us today for your training. Our centre is accredited with SMEDAN for this. We offer both on-line and normal physical training format.
Step 2 – Apply For Loan
Furthermore, the Entrepreneurship Development Institute (EDI) guides and assists you in getting all necessary documents required to secure the loan. Our centre offers the form. You can get yours immediately. That is a first stage in the loan processing exercise. In addition, one of the documents we will provide for you is a suitable business plan.
Step 3 – Receive Funds:
In addition, our centre will ensure you are captured for SMEDAN and NIRSAL Microfinance data base. That is what will facilitate your loan interview. At the loan interview we ensure you defend your business plan appropriately. Loans are paid into your account, the beneficiaries.
Step 4 – Get Business Support Services:
In fact, this is what we will offer you. This is because the Entrepreneurship Development Institute is mandated to assist you develop a business plan. We will also provide you business support services commercially. And, as accredited CAC consultants, we will register your businesses if need be. Other services we render are here, just a click.
Step 5 – Make Sales:
Additionally, implement your business plan. So, plan to execute your business programmes. Then, sell your products and services to pay back loan and make profit. This is where building your business turnover matters.
Step 6 – Repay Loan:
Finally, run your business well. Then, keep proper records of your business. In this connection, monitor sales and expenses to maximize profit. That's the way to pay back the loan.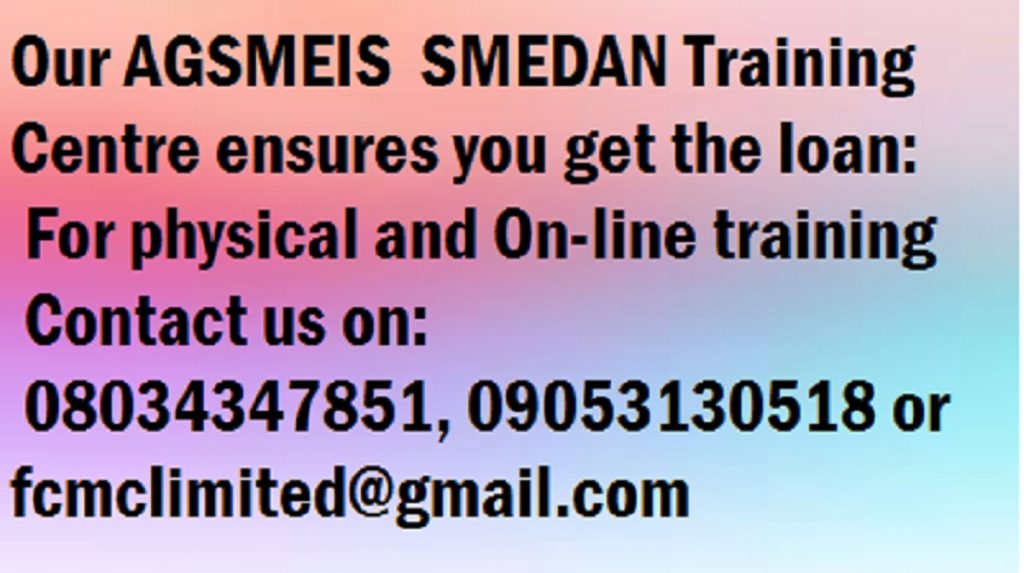 What are those business concepts that matter here?
The things that matter at this time include, getting better business coaching. Get your business activities well documented. We can help you here, if you so desire. In our previous article we have talked about how to avoid business failure. We have also highlighted the fact that Turnover is the key to business growth and sustainability.
OUR AGSMEIS LOAN SUPPORT SERVICES.
As a matter of fact, we offer the following services for this loan programme.
We facilitate your entrepreneurial training with SMEDAN
In addition, we develop a bankable business plan,
We register business name or company with CAC where applicable
In fact, we will also ensure you re captured in both SMEDAN AND NIRSAL Microfinance bank data base. That's to facilitate your loan interview. At this loan interview, you defend your business plan for the loan application.
COMPLETE FULL MARKS CONSULTANTS (CFMC) LIMITED:
CFMC Limited is a firm of chartered accountants, and management consultants. In fact, we are accredited consultants with CAC, SMEDAN and other government agencies.
As a matter of fact, it's necessary you contact us for your AGSMEIS SMEDAN certification training immediately. We hold at least a session of training each month. Our programme covers both physical and on-line training schemes. So, you can enrol from anywhere you are residing globally
OUR CONTACTS FOR HOW DOES AGSMEIS LOAN APPLICATION WORK?:
+234 8034347851 and 09053130518, or email us at cfmclimited@gmail.com
Finally, it's time to think about helping a brother, sister or friend. You can recommend this training for the person. You may do this by sharing post. Also, like us on our Facebook for updates.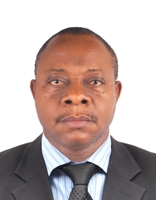 Founder/Managing Partner of Complete Full Marks Consultants Ltd. An Economist turned Chattered Accountant and Tax Practitioner with over 37 years of industrial experience.