WHO IS ELIGIBLE FOR AGMEIS LOAN IN NIGERIA? You must get this right if you must apply for AGSMEIS loan. This is because AGSMEIS loan is not for buying and selling business. In actual fact, you must be involved in a business that uses fixed tangible tools, equipment and machineries. Therefore, these are the type of equipment the government wants to help you acquire.  A major objective of this programme is to generate employment and income. In fact, government believes that enterprises that use such tools and equipment are more capable of generating more employment.
On the Requirement:
As a matter of fact, if you are such an entrepreneur, you need to go through this post. This is a well-researched article on this subject matter. So, for you to fulfil AGSMEIS loan requirements, this post is a must read for you. Furthermore, if you have been trained by us, and has our agsmeis business plan, you can now apply for a NIRSAL loan. Here too is the highlights of the latest news on agsmeis and FGN agricultural loan.
A a matter of fact, I know you need answer to; who is eligible for Agri-Business Small and Medium Enterprises Investment Scheme (AGSMEIS) loan. In fact, you also need to understand that AGSMEIS is a federal government intervention funding scheme through CBN that promotes Agro businesses. In fact, government see AGSMEs as vehicles for sustainable economic development and employment generation. Therefore, in collaboration with (AGSMEIS), we support and complement the Federal Governments' efforts at promoting Agri-businesses/Small and Medium Enterprises.
WHO IS ELIGIBLE FOR AGMEIS LOAN IN NIGERIA? Eligibility for AGSMEIS Loan:
Furthermore, you have to read this section carefully to understand who and who is qualified for this loan. Therefore, do you own a business or want to start one? Agribusiness small and medium enterprises investment is designed specifically by the federal government to promote agricultural businesses of micro, small, medium enterprises (MSME).
Furthermore, have you been trained by us in collaboration with SMEDAN? Without this training and its certificate you can't access this loan. So, call us today to register for the training.
In addition, have you developed a suitable business plan for your business? This is the business plan you will have to implement for this loan. In fact, this is the business plan you must defend at the loan interview. If you don't have any business plan yet, call us immediately with details of your business activities for a suitable business plan.
Furthermore, do you belong to any of the following industry?
Businesses in the following industry are eligible for AGSMEIS Loan;
1. Agriculture.
2. Real sector including Manufacturing, mining, and petrochemicals.
3. Service sector including Information and Communication (ICT)
4. In addition, Educational Sector
5. The Creative Industry.
6. Finally, other businesses as determined by CBN.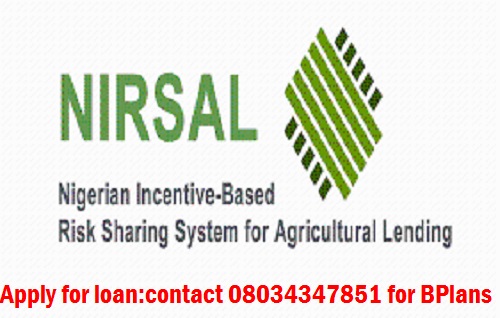 The objectives of the Scheme:
Furthermore, this programme has objectives. In fact, Agro, Small and Medium Enterprise Scheme (AGSMEIS) is to:
To ensure Small and Medium Enterprises (SMEs) have access to finance
To generate much-needed employment opportunities in Nigeria
The generation of income that leads to economic growth.
To develop agricultural value chain and ensure sustainable agricultural practices.
To boost the managerial capacity of Agri-Business/SMEs as pipelines of growing enterprises that can become huge corporate organizations.
WHO IS ELIGIBLE FOR AGMEIS LOAN IN NIGERIA?
In summary, consider the essential economic concepts that government wants to address with this programme.
How to generate good turnover to avoid business failure. How to improve your business bottom line to enable you achieve your business growth and sustainability. In general, on the national economy, it enables businesses create employment, generate income whose multiplier effect will gender economic growth. These will grow family and societal income and wellbeing.
As a matter of fact, we believe our training for this agsmeis loan will enable you garner better business coaching. It will help you get your business activities well documented. We can actually help out here, if you so desire. In fact you need our AGSMEIS support service.
RELATED TOPICS:
WHO IS ELIGIBLE FOR AGMEIS LOAN IN NIGERIA? – OUR SUPPORT SERVICES FOR AGSMEIS LOAN.
For this programme, we offer you the following services.
Entrepreneurship training with SMEDAN
A suitable business plan for your business
Business name or company registration with CAC, where applicable
Help your application details captured in both SMEDAN AND NIRSAL Microfinance bank database
To facilitate your loan interview. This loan interview is where you defend your business plan.
COMPLETE FULL MARKS CONSULTANTS (CFMC) LIMITED:
CFMC Limited is a firm of chartered accountants, and management consultants. We are accredited consultants with CAC, SMEDAN and other government agencies.
Contact us for your AGSMEIS SMEDAN certification training. We hold at least a session each month. We carry out both physical and on-line training schemes for this programme. So, you can enrol from your homes.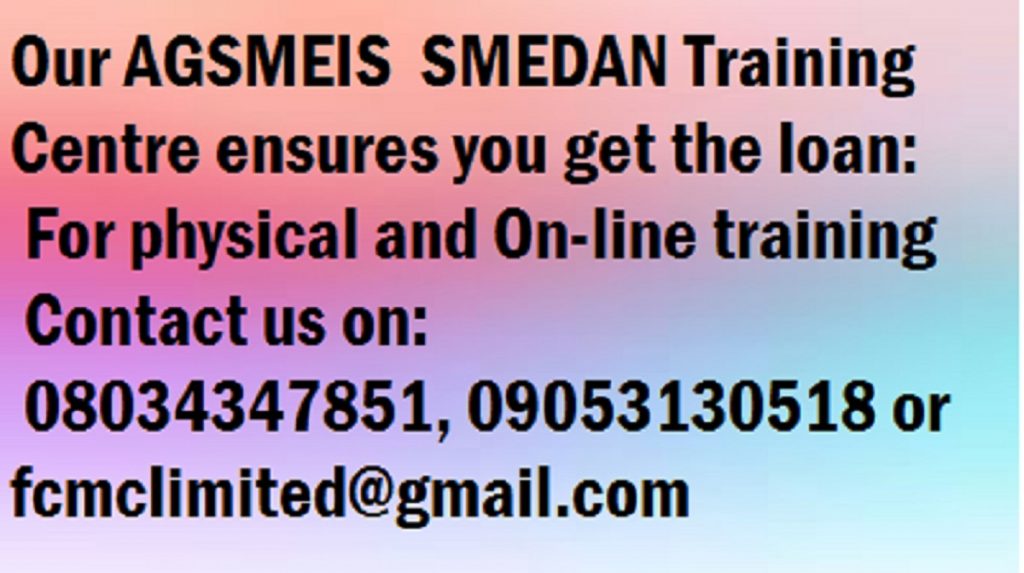 WHO IS ELIGIBLE FOR AGMEIS LOAN IN NIGERIA? – OUR CONTACTS:
+234 8034347851 and 09053130518, or email us at cfmclimited@gmail.com
Congratulations. Now, think of helping a brother, sister or friend. Recommend this training for the person. This you can do by sharing this post. In addition, try to like us on our Facebook for updates