Apply for AGSMEIS Loan SMEDAN Training Here. This is about AGSMEIS loan application form. AGSMEIS business plan. AGSMEIS SMEDAN certification Training. Furthermore, here are all the information you need on AGSMEIS SMEDAN certification Training. As a matter of fact, we are certified to conduct this certification training collaborating with SMEDAN. Therefore, we would want you to go through this post to ascertain how you will benefit from this training.
Where to Apply
As a matter of fact, this certification training is a prerequisite for applying for AGSMEIS loan. So rush now and contact us for your training.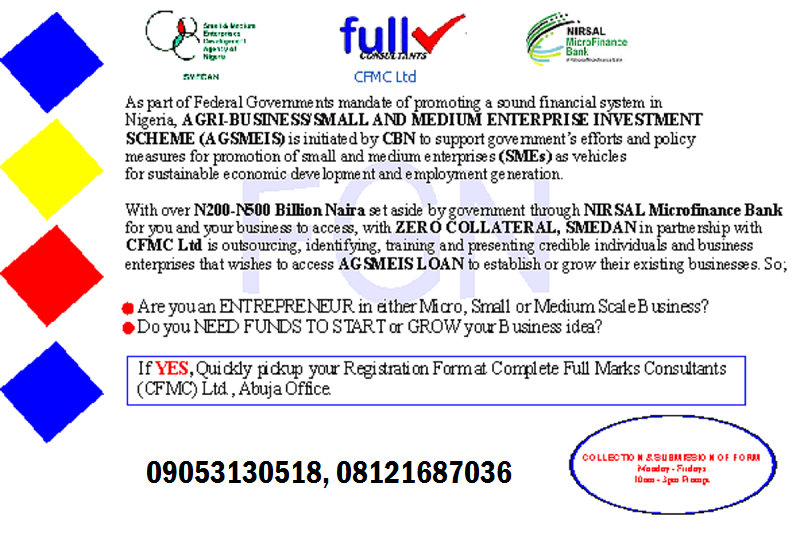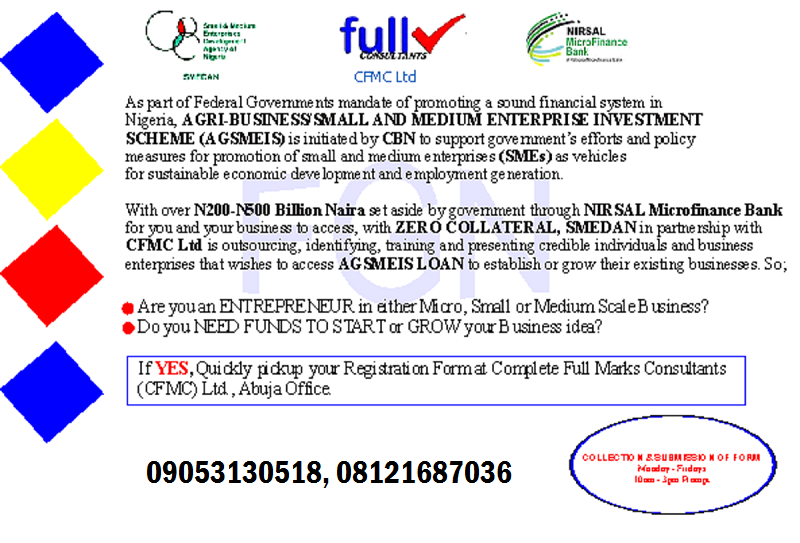 RELATED TOPICS:
Now get these relevant questions answered. As a matter of fact, if you need this loan, the answers to these questions are very relevant to you.
Apply for AGSMEIS Loan SMEDAN Training Here – How do I apply for a NIRSAL loan?
As a matter of fact, eligible individuals and SMEs and corporate entities are to undergo SMEDAN entrepreneurship certification training in our centre. Thereafter, applicants must then submit loan applications directly to NIRSAL Microfinance Bank. Furthermore, the application must, amongst others contain BVN Number, business registration (where applicable). There must be a business plan with clear plan on tangible/fixed assets and working capital.
What is NIRSAL all about?
Additionally, NIRSAL is the acronym for Nigeria Incentive-Based Risk Sharing system for Agricultural Lending. It was launched in 2011 and incorporated in 2013 by the Central Bank of Nigeria (CBN) as a dynamic, holistic USD500 Million public-private initiative to catalyse the flow of finance and investments into fixed agricultural value chains and other SMEs.
What is SMEDAN?
SMEDAN stands for Small and Medium Enterprises Development Agency of Nigeria. It was established by the SMEDAN Act of 2003 to promote the development of the MSME sector of the Nigeria Economy. In fact, the Agency positions itself as a One Stop Shop for MSME Development. SMEDAN Mandate is initiating and articulating policy ideas for small and medium enterprises growth and development. Furthermore, is promoting and facilitating development programmes, instruments and support services to accelerate the development and modernization of MSME operations.
SMEDAN AUTHENTICATION:
In fact, this is why we think you should attend this training in our centre. SMEDAN entrepreneurship training certificate is of global acceptance. So, you need it and we will facilitate all processes to ensure you have your certificate.
Furthermore, without this certification training, you are not qualified for this loan. But, armed with your training certificate you are eligible to apply. In fact, this certificate gets you along any other government floated financial benefits.
Apply for AGSMEIS Loan SMEDAN Training Here – What We Offer you in this programme:
Complete Full Marks Consultants training centre will;
Facilitate your training process with SMEDAN
Develop a suitable business plan for you
Ensure you are captured in SMEDAN & NIRSAL Bank data base.
Incorporate your business where applicable
AND MORE.
LET'S WORK TOGETHER – Apply for AGSMEIS Loan SMEDAN Training Here:
Finally, Complete Full Marks Consultants (CFMC) Limited is a firm of Chartered Accountants, Auditors, Taxation and Management Consultants. Therefore, we are better equiped for this training. In fact, our several years of industrial experience speaks for us. Therefore, we can assist you will all the business development and support services you desire.
Call us on +234 8034347851 or email us via cfmclimited@gmail.com
Concluding, if you enjoyed this, please help us share to reach your contacts. Thanks for doing that.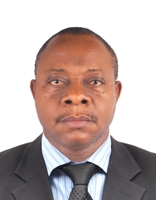 Founder/Managing Partner of Complete Full Marks Consultants Ltd. An Economist turned Chattered Accountant and Tax Practitioner with over 37 years of industrial experience.