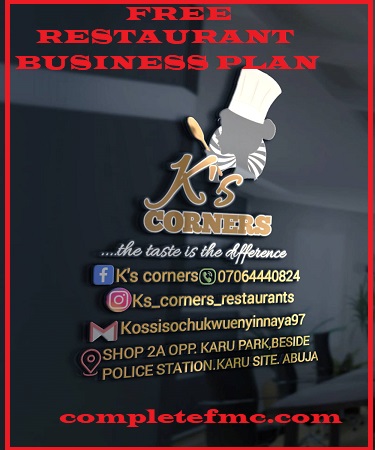 Do you need a Free Restaurant business plans in Nigeria? – This is a Small restaurant business plan example suitable for medium scale restaurant business. In this article are Restaurant business description examples and an illustrative business plan for restaurant and bar. We normally present our business plans in both pdf and MS Word. We have so worked on this that it will also aid you write your fast food restaurant business plan.
Therefore, if your question is, how do I write a business plan for eatery, fast food joint, restaurant or bar joint, here are what you should do. In Completefmc.com we structure bankable business plans for SMEs startups. Therefore, for every lean start up plan we develop, we add startup accelerator strategies. These we build into the business startup ideas generated by us. As a matter of fact, with Completefmc.com starting up a business is an experience. So, contact us for your start up business plans. In fact, added also in our support services are sources for startup funds for lean start up and franchise opportunities.
The Business Plan:
K's Corners Restaurant is a single-unit, medium-sized restaurant. Our model is to focus on organic and creative food. That is why we have all types of Nigerian and African dishes in place. We are located at No.2 Police Road Karu, Abuja, Nigeria. This is a siren and prime neighborhood of Civil servants, traders and artisans. Most important to us is our customer satisfaction. Second to this is our financial success. That is why we believe in achieving this by offering high-quality services and extremely clean, non-greasy food with interesting twists.
Free Restaurant business plans in Nigeria
Company Ownership:
The restaurant started as a limited liability company. A simple sole directorship, owned by its founder. The company is registered in Nigeria in February, 2022 to carry on restaurant and other related services businesses.
Objectives:
Our Sales projection is N5m in the first year and more than double this in the second year. Other projections is to be conservative on personnel cost. So, we plan personnel cost at N1m in the first year and less than N2m in the second year. This gives us our projected gross profit of 30% in the first year and 37% in the second year.
Mission:
K's Corners Restaurant is a great place to eat. It's a combination of an intriguing atmosphere with excellent, interesting food that is very good for the people who eat here. We desire fair profit for the proprietor, and a rewarding place to work for the employees.
Success Factors:
We have worked out various strategies to achieve success for K's Corners Restaurant. These include;
Availability of variety of food all the time
Good atmosphere for all shades of customers
Special attention for those below age 12,
Promotion of Native Sunday when only Nigerian native foods are sold.
Affordable prices for our dishes
24/7 power available
Free spaces for birthday celebrations, Club and town meetings etc.
Services:
Our menu is going to be extremely simple. We will keep a standard menu for every six months. In fact, we also plan to feature a chef's recommendation that we plan to have 85% of meals ordering. We have registered with Jumia for ordering effect. All of these are so planned to help us to reduce waste and plan ingredients and purchasing.
Market Analysis:
As a matter of fact, we have an excellent feel for our market area and its core group of customers. This is why we will do all in our power to make them share a feeling of being in the "in crowd" and having "gotten it" in life. This is how we plan to keep our market segments in tact for a long time. As a matter of fact, we plan to raise menu rates as the restaurant gets more and more crowded. That is to ensure that we are charging a premium for the feeling of being in the "in crowd."
Free Restaurant business plans in Nigeria
Management Summary:
Mrs. Dorothy has great experience managing personnel. That is why we are quite confident of her ability to always find the best staff possible. Our chef, Mr. Emma, is already on board. K's Corners Restaurant has a published cookbook that will always add prestige to the restaurant. We already have in place young, ultra-hip staff to make sure we add the edge that makes K's Corners so trendy.
Personnel Plan:
Our personnel plan is shown in the appendix I. We have in it expressed our willingness to invest in a good team who are fairly compensated. We have in mind that the planned staff number is in good proportion to the size of the restaurant and projected sales activities.
Financial Plan:
We have already invested in K's Corners Restaurant a whopping sum of N15m in fixed assets funding and working capital procurements. We do not have in mind to borrow. The Sole Director provides the entire funding from her personal saving. Our financial statements are as explained below.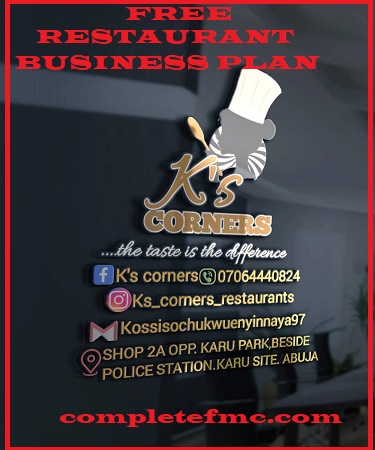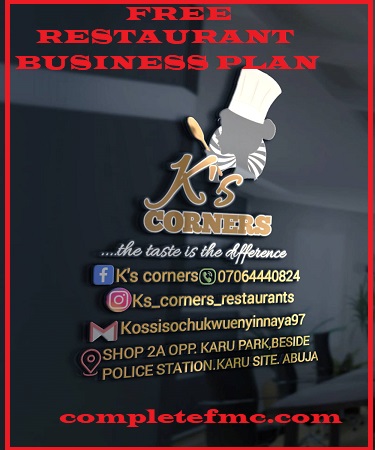 Free Restaurant business plans in Nigeria
Projected Profit and Loss:
This is also called income statement. So, the projected profit and loss table shows an average profit in the first and second year but an acceptable profit value in the third year. The profit and loss table is shown in the Appendix II.
Projected Cash Flow:
This table is shown in the Appendix III. It shows that starting cost and provisions for ongoing expenses are adequate to meet initial running costs until the business begins to be self-sustaining.
Projected Balance Sheet:
The table as shown in Appendix IV as the projected balance sheet for three years. This is our statement of affairs which shows a stable operation by the third year.
Read Also on Free Restaurant business plans in Nigeria
Summing Up on Free Restaurant business plans in Nigeria
Did you enjoy this illustrative business plan. There are no business plan without tables and worksheets to portray the operations. This particular illustrative business plan has it also. However, they are gotten on request. We want you to have confidence in Completefmc as a business plan maker.
In fact, Completefmc. business plans are professional high-profile business plans covering all types and sizes of business. So, there are those for Oil & Gas, Cooking gas, Air travel companies, Estate development and management services etc. Then are those for small and medium scale businesses like this restaurant business plan, food truck business plan, gym business plan, transportation, refinery business plan and travel agency businesses, and many more. Just tell us what you want, we generate it for you in few days at a minimal cost.
How to contact us:
We are available at various media such as cfmclimited@gmail.com, +234 8034347851, then use our social media buttons on this page to like us, send your comments and make your orders.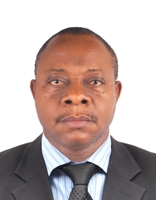 Founder/Managing Partner of Complete Full Marks Consultants Ltd. An Economist turned Chattered Accountant and Tax Practitioner with over 37 years of industrial experience.