How to Obey Any wedding rules for guests – Wedding activities are getting out of hand. Guests need to be controlled otherwise they mare the entire wedding activities. By this you also try to pattern and put a colour to your wedding glamour. Therefore, there are, wedding etiquette for guests attire, wedding etiquette for inviting guests, wedding guest etiquette gifts, wedding guest etiquette gift money,  and wedding guest jewellery etiquette.
This article is meant to give you the highlights you should have while planning your wedding or being a guest for a wedding ceremony. If you ever want to participate in a wedding activity, even as an event planner, this article is for you.
How to Obey Any wedding rules for guests
Rules to Observe:
1. RSVP on Time. Hi guest! – This is understandable
2. No Kids Means No Kids. – How? In Africa?
3. Don't Wear White. Or ivory, or cream – Any reason for this? You must not look like the bride.
4. Don't Wear Black – The bridegroom may likely be in black
5. Just Obey the Dress Code in General – How important is this? Is it truly obeyed always in Nigeria?
6. No Last Minute Change of Plan – How?
7. Switch Your Phone Off – How manage?
8. Don't Get in the Photographer's Way. – This is understandable
9. Think About Your Hat – This could be covering others views, especially for Nigerian Women
10. Don't Smuggle in Alcohol – Good order too
11. Don't Drink Too Much Alcohol – Why, if available?
12. Behave Yourself – Be a gentle man
13. Do Not Touch the Seating Plan – A good rule too
14. Try Not to Sulk – Why?
15. Consider the Environment – Very important
16. You Get What You're Given – How?
17. Have Fun! – Good
How to Obey Any wedding rules for guests
Event Planning & Management Business Plan Template
But Then Look At This abridged Rules: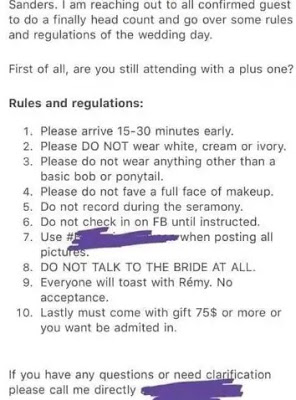 How to Obey Any wedding rules for guests
WEDDING EVENT CONSULTANCY BUSINESS PLAN
I would like you to respond to these rules. Send in your comment through the comment box on this page. Please share to reach others. Thanks.
 How to Obey Any wedding rules for guests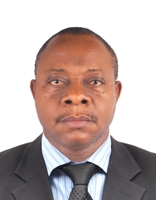 Founder/Managing Partner of Complete Full Marks Consultants Ltd. An Economist turned Chattered Accountant and Tax Practitioner with over 37 years of industrial experience.