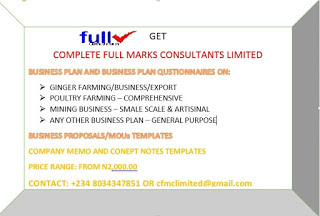 Why Do I Need A Consultant's Business Plan Template for My Business? – This post is about why you need a business plan from a  business consultant to do your business or to write one for yourself. Business plan templates are sample business plans which you can adjust to suite your business. In most cases you will need a business plan questionnaire to help guide you while adjusting the business plan template to suite your business. Complete Full Marks Consultants Limited (completefmc)  has so many of them that will help you start your business, grow it and stabilise it. So,  Why Do I Need A Consultant's Business Plan Template for My Business?
As a matter of fact, in this post are several  of such business plan templates and business plan questionnaires  templates  from completefmc that will help you write one for yourself. We have them in stock. We offer you cheap ready made business plan of all kinds and formats that will help you do this.  Here are some of them that you need. Just click any topic link of your choice on this page to have the details.
In fact, you need Grow Your Business with Business Plan Growth Templates, Business Plan Questionnaire  Template for Your Business Growth, Start Your Business With Completefmc Business Plan Template, 8 Key Growth Strategy For Your Business That Works Like Magic, How Can  My Business Grow in Nigeria & Globally?, Business Plan That Grows Your Business Immediately and Why & How to  Review Your Wholesale Business Plan/Goals Regularly
Why Do I Need A Consultant's Business Plan Template for My Business?
THE BUSINESS PLAN/QUESTIONNAIRE YOU NEED:
I tell you, you need the following to grow your business
This is a business plan with growth strategies to grow your business. This plan is for those who are in business already. You may be wondering why your business is not growing, here are growth variables that will do the work for you.  So what are you waiting for to get one immediately.
This business plan is specially designed for business start-ups.  Successful businesses are those who articulate very well on what to do and not to do and how to do them with notable benchmarks  right from the beginning. With this Completefmc start-up business plan template, you are on the right track of success.
These are growth strategies that you can build into your business plan. There are 8 key growth strategies here with multiple growth variables that you need to introduce in your business immediately. That's why they work like magic.
This is another business growth business plan that works for many. Get  a copy today to make the difference in your business.
Why Do I Need A Consultant's Business Plan Template for My Business?
This document called Business plan is not a static document. You should be able to make it dynamic from time to time. As the economy, environment of your operation change the political economy of your country, you  have to review your business operation models as in your business plan. That's the only way to achieve your business goals from time to time.
Remember that every change in any nation's economic policy and annual budgets implementations  ( fiscal and monetary policies)  affect demand and supply of your wholesale and distributive businesses. This is the business plan template you need to fight against such business challenges and to achieve your business goals.
As indicated above, ones the national fiscal and monetary policies and their implementation strategies  change, the demand and supply for your retail goods and services are affected.
This business plan review template will help you handle the situation from time to time.
This is a specific business plan review template. For those of you in oil palm/kernel oil business this template is for you. It's specially made to address certain specific operational challenges of this business.
Why Do I Need A Consultant's Business Plan Template for My Business?
And if you have a running business plan now, at the first half and third quarter of the year, you should be reappraising your current/ongoing business plan.
This is a general purpose model for every business.  Get a copy today.
This post addresses certain neglected aspects of your business plan. Check it out.
Your business growth models/principles benchmarked on growth strategies are here.  Please, check it out.
It cost some resources to put business plans & proposals together. Think of the time, efforts, opportunity costs, professionalism etc. that are put in place to let you have a business plan/proposal template –  these are what you pay for.  And yet you have them from Completefmc very cheap.
Price ranges from N2,000.00. Get more details here.
Can you define your business policies, visions and goals? Can you put together your business operational clauses? If you don't know your business niche and defined business objective, what re you doing in the business?
There are ready made ones for you from us. You can also get customized ones. These are also needed when we register your business  with Corporate Affairs Commission (CAC). Just let us know what you are into.
This is how we build your concept notes. This post will help you do one for yourself. Get details here.
Conclusion:
I have joy inside of me now. This is because I know you are happy with these topics that will help you make the difference in your business. Check out your next door business colleague and ask "Why Do I Need A Consultant's Business Plan Template for My Business?" You will be shocked to notice that the difference is that he/she patronizes a consultant.  Consultants do for you what you can't do for yourself.  They are your business errand firms. Just let us know what you want to do, commission us to do them, and we will deliver results to you.
Meanwhile, can you share this post to reach others. A click on any of our social buttons on this page will do the magic. Thanks for doing that.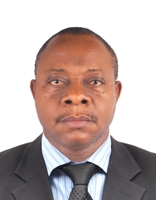 Founder/Managing Partner of Complete Full Marks Consultants Ltd. An Economist turned Chattered Accountant and Tax Practitioner with over 37 years of industrial experience.