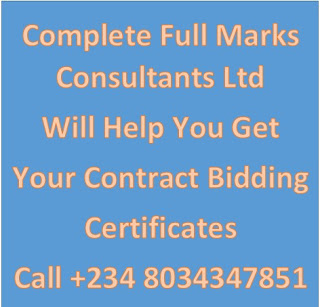 You Need Old Coy Profile for Contract Bidding in Nigeria –  This pos is about how to get contracts In Nigeria (Government And Companies).  How to qualify for contract bidding in Nigeria. Federal government of Nigeria demand for contract bidding documents, and what these bidding documents are. That's why You Need Old Coy Profile for Contract Bidding in Nigeria.
As a matter of facts, the old saying that experience is the best teacher is applicable here. Why? It's the old companies that have the required experience, technicalities, manpower and enough relevant contract documents to offer. In fact, even the age of the company is an advantage. That is why you must need an old registered company to enable you tender for that job you are looking for. This post will expose you to how you will get one.
Do you have these contract bidding documents?
Certificate of Incorporation/ Evidence of Registration at the CAC, Tax Clearance Certificate covering at least three years preceding the current year, VAT Registration Certificate and Evidence of Payment, Standard Organization of Nigeria (SON) Certification (where applicable), Audited Accounts for at least 3years from the current year, Company profile, Organizational Structure including names of directors and management team, address of the company and contact details, Evidence of Execution of similar jobs including skill acquisition and experience of personnel, Bank Guarantee or Performance Bond from an Insurance Company, Professional Body Registration if any e.g ICAN, COREN, SEC etc. (where applicable) and  Details of bankers or financiers and evidence of an existing relationship.
If your answer is YES, then you are good to go, but if your answer is Yes to some and No to others, or entirely NO to all, then we are here to help you out. Just call us.
The truth is: You Need Old Coy Profile for Contract Bidding in Nigeria. If this is your dream, please go through these contract bidding principles in Nigeria, and then we talk.
Bidding Principles:
Bidding for contracts in Nigeria – how?
How do I  get government contracts in Nigeria?
But, how do I become a contractor in Nigeria?
Where do I get the list of contracts to be tendered for in Nigeria?
NGO tenders in Nigeria – how about it?
Can we talk Now?
Yes, we need to talk, and that is the fact that you need a company/firm that has good age and profile over time to tender for that contract and that LPO. Instead of registering a new company that will not qualify for the contract, contact us to get you an old one that will make you qualify.
We will help you make the necessary
changes with CAC
and authenticate you as current owner of the company and then you fly from there.
You also need your audited accounts and tax clearance certificate to tender for these jobs. As an Accounting firm, we will get your financial statements ready and file your tax returns after due tax liability computations.
You also need Compliance Certificates from
PENCOM
, Industrial Training Fund
(ITF)
, National Social Insurance Trust Fund
(NSITF
) and a registration with
BPP federal contractors data bas
e. We will ensure you have all of these in record time. If you start early, that will be better. Why not start getting ready your next year contract bidding documents now?
As you can see, if you contact us, these documents will be sourced for you seamlessly. We do that as consultants. We do for you what you can't do for yourself due to your staff low capacity.
I know that you have enough information to make good your contract bidding plans now and in the future.
Click here now.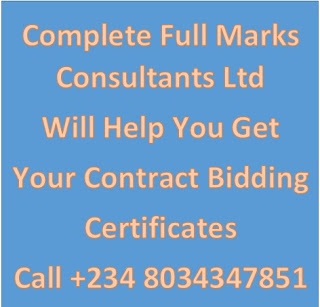 Before you end this, any of the following topics on business challenge might help you, just click one for details.
New Coy Vs Old Registered company: how to get any
Register a new coy or buy an eisting one
How to make corrections to your incorporation documents
Make Changes in your incorporation documents
Get a Replacement of your Lost Business Documents
How to Convert LTD to PLC in Nigeria
How to Convert LTD to Unlimited Company
And, How to Convert Unlimited Company to Ltd
How to Convert an PLC to LTD
Contact Us:
I know you enjoyed this post. Do contact us if you  have need of us through these details.
e-mail: cfmclimited@gmail.com
Phone: +234 8034347851, +234 8097900795
Website: www.completefmc.com
Please use our social media share buttons on this post to share this to reach your friends. Thanks for reading through.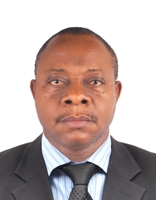 Founder/Managing Partner of Complete Full Marks Consultants Ltd. An Economist turned Chattered Accountant and Tax Practitioner with over 37 years of industrial experience.