How to Get Federal. Government Contract Bidding Certificates in Nigeria – In Nigeria there are certificates required of a federal contractor in order to qualify to bid for a federal contract. Such certificates come from
PENCOM
,
ITF
,
NSITF
and
BPP
.  Therefore, Armed with ALL of these you can now begin to think along the easiest government contracts to win, list of government contracts, and how to bid on such contract. In addition, how to get a government contract, gov bids, fedbizopps and how to make money from government contracts considering government contract opportunities. And lastly, how to get your contract bidding certificates and other documents through
Completefmc management consulting services
. This is How to Get Federal. Government Contract Bidding Certificates in Nigeria.
Federal Government Contracts:
 As a matter of fact, in this post, How to Get Fed. Gov. Contract Bidding Certificates in Nigeria, are questions to answer which give you insight into what federal government contract is all about. In it also are how to get the most important contract bidding certificates in Nigeria. Therefore,  it's advisable that you continue reading this post for all of these benefits. There is also contact details on how and where to get the bidding certificates. So read on.
Do you have Answers to these associated relevant Questions? Get them here.
What is government contract?
What is a federal contractor?
Who is a Federal contractor?
Furthermore,
What are the types of government contracts?
How do I win a Federal contract?
Furthermore, Federal or state government contracting is the process that lets you sell your goods or services to the government and its various agencies. So, it can be said that the government has a contract, or agreement, with you whereby it purchases what you do or make.
How to Get Federal. Government Contract Bidding Certificates in Nigeria – Who then is a Federal contractor?
As a matter of fact, Federal contractors are individuals, employers, companies, consulting firms,
NGOs
, etc. who enter into a contract agreement with federal government of Nigeria (any department or agency) to perform a specific job, supply labour and materials, or for the sale of products and services. You could qualify to be one through this post you are reading now.
How to get these Bidding Certificates:
Therefore, here are the relevant bidding requirements. Click the topic of your choice and get details of  procedures, how and where to get them.
Completefmc will get them for you.
Your registration on this data base is very Key to your winning any contract in Nigeria.  Get the details here.
This is another essential document that qualify you to bid for any federal government contract. If you follow our guidelines here you will get one quickly. Click for details.
The almighty PENCON certificate is here. We will certainly get it for you.  Click here for details and how to contact us for your  pencom certificate.
Government wants to enforce your ability to take care of your personnel. Therefore, this certificate is very important for government if you need their contract. Click for details here, and how Completefmc will get you the certificate.
I'm aware that many of you don't know what consultants like Completefmc can do for you on subject matters like this one on this post. Please get these information here.
Armed with your contract bidding certificates, you can now ask:
How to Get Fed. Gov. Contract Bidding Certificates in Nigeria
How do I win a Federal contract?
Here are7 Completefmc tips on how to get a piece of the billion-Naira federal procurement pie. Please take these steps:
Decide what to sell/do
Contact the relevant agency
Get registered in the particular agency
Be in possession of the contract bidding certificates
Do the bidding
Don't assume it's automatically in the bag – follow-up
Get certified.
Our Assumptions on this post:
In fact, Our assumptions on this post are that we are talking to:
Company/firm/NGO owners who are duly registered with CAC in Nigeria.
Individual business men who have duly registered their business names with CAC in Nigeria.
Intending company owners/individuals who are ready to learn from this post and utilise the opportunities provided herein.
In addition, Complete Full Marks Consultants limited will help you regularise your existing or new company/firm/NGO and business names with CAC in Nigeria.
Therefore, Click to read the following Completefmc business plan templates that will help your business start well and for existing ones to grow faster.
Why Do I Need A Consultant's Business Plan Template for My Business?
Grow Your Business with Business Plan Growth Templates
Start your business with Completefmc Business Plan template
8 Key Growth Strategy For Your Business That Works Like Magic
The business plan that grows your business
How to Get Federal. Government Contract Bidding Certificates in Nigeria – What are the types of government contracts?
Normally, contract types are grouped into categories/slots, so always make your choice according to your capacity to perform. Some contracts are:
(1) Fixed-price contracts
(2) Cost-reimbursement contracts.
(3) Incentive Contracts.
(4) Indefinite – Delivery Contracts.
(5) Time – And-Materials Contracts.
(6) Labour – Hour Contracts.
(7) Sealed Bidding.
(8) Negotiation types.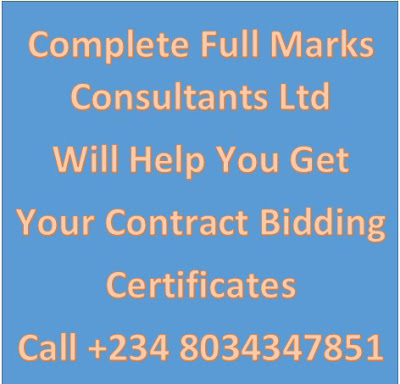 How to Get Fed. Gov. Contract Bidding Certificates in Nigeria @ Complete Full Marks Consultants Limited?
In conclusion, Complete Full Marks Consultants Limited (CFMC Ltd) is a consulting firm duly registered in Nigeria as per Nigeria's Company and Allied Matters Act 1990, as amended, to carry out Accounting, Auditing, Taxation and Management consulting services. Now you can see the scope of our operation. We can do a lot for you.
In summary, CFMC Ltd will get your accounts audited, procure your tax clearance certificate, other FIRS annual returns and process your contract bidding certifiates. We will register your new company/business name/NGO with CAC and process your existing company annual returns. So you are dealing with a one-stop shop for all your business start-up, growth and stability. Call us today for your business needs.
Therefore, if you have need of us, contact us on the details below.
e-mail: cfmclimited@gmail.com
Phone: +234 8034347851, +234 8097900795
Website: www.completefmc.com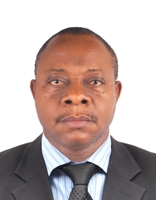 Founder/Managing Partner of Complete Full Marks Consultants Ltd. An Economist turned Chattered Accountant and Tax Practitioner with over 37 years of industrial experience.