Jesu Oba By Tosin Koyi @ Busysinging.com is one of the 2018Christmas Inspirational songs on busysinging.com. It's really ontime a particular seasonal inspiring songs for all of us. It's one of busysinging current worship songs to spice our days during this Christmas.
As a matter of fact, here're a hit you will like from Tosin Koyi.  In a way, this is part of my 2018 Christmas good tidings to all of you my readers. May this inspire you  to love God more by these songs and to be good to humanity.
Did you hear someone say, 'Gospel Music is not agenre but a message'. This is  because within gospel music itself re in built many genres – spiritual, inspirational,choral, hymnal, hiphop, rock, afrobeat etc. How gospel artistes interpret their message on a particular beat or sound is what differentiates them from orthodox music.
Jesu Oba By Tosin Koyi @ Busysinging.com
TOSIN KOYI
In fact, the emergence of TOSIN KOYI on gospel music scene is indeed  a breath of fresh air. His upbringing in a musically inclined family shows in his ability to fuse lyrics together in a technically astounding format. He does this smoothly  either to a vibrant Rock infused sound as in his first major single, EVERLASTING ARMS released online on major platforms a few months back or to Afrobeat as shown in his latest effort , JESU OBA.
JESU OBA
As a matter of fact, listening to JESU OBA is reminiscent of Afrobeat music in its purest form. From the vocal style and the beat, you will be taken on a musical style made manifest by Africa's most celebrated musicicon, Fela Anikulapo – Kuti. TOSIN KOYI dispensed the lyrics glorifying the Kingship of Jesus to a sound that has come to stay. In simplicity, it's  interpretation in Yoruba and English language simply says, King Jesus has come and all our problems, troubles and sins have come to an end.
Furthermore, as we approach the Christmas season of celebrating the birthday of King Jesus, the good news TOSIN KOYI is offering everyone is JESU OBA.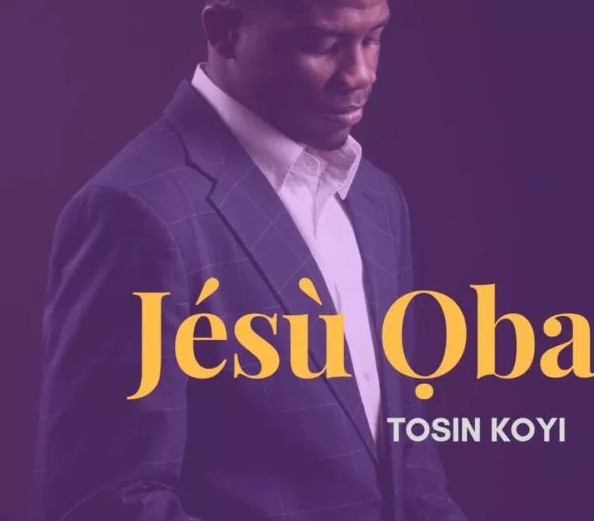 Jesu Oba By Tosin Koyi @ Busysinging.com 
Jesu Oba Lyrics By Tosin Koyi:
Jésù Ọba (King Jesus)
 Response
Translation
Ará ẹ wá gbọ́ . [Everyone, listen up]
Ìròyìn rere l'múwá . [We bring glad tidings]
Everybody say Yeah Yeah
(Yeah, Yeah)
Ibanuje d' òpin . [Sorrow is abolished]
(L'aiye wa) . [In our lives]
Ikú d' òpin [Death is abolished]
(L'aiye wa) . [In our lives]
Àìsàn d' òpin . [Sickness is abolished]
(L'aiye wa) . [In our lives]
Ẹ̀ṣẹ̀ d' òpin . [Sin is abolished]
(L'aiye wa) . [In our lives]
Pre Chorus:
Ẹni tí a' reti ti dé . [The expected One has arrived]
(Ọ dé, o dé) . [He is here, He is here]
Olùgbàlà aráyé . [The Saviour of the world has come]
(Ọ dé, o dé) . [He is here, He is here]
Chorus:
Jésù Ọba! . [King Jesus]
(Ọba, Ọba awọn ọba) . [The King, King of all kings]
Verse:
Imagine a virgin giving birth to a child
Imagine the Son of God here on Earth
For Bethlehem
Mary born pickin o
Three wise men dem
Dem dey find the King o
Pre Chorus:
Ẹni tí a' reti ti dé . [The expected One has arrived]
(Ọ dé, o dé) . [He is here, He is here]
Olùgbàlà aráyé . [The Saviour of the world has come]
(Ọ dé, o dé) . [He is here, He is here]
Chorus:
Jésù Ọba! . [King Jesus]
(Ọba, Ọba awọn ọba) . [The King, King of all kings]
READ ALSO: