These are the Requirements for CBN COVID-19 INTERVENTION FUND. In fact, this fund is a N50 billion Targeted Credit Facility by the Central Bank of Nigeria.  In fact, CBN has started disbursement of the N50 billion Covid-19 intervention fund through the Nigeria Incentive-based Risk Sharing System for Agricultural Lending (NIRSAL) Microfinance bank on its behalf. The facility is a stimulus package to help mitigate the negative cash flow impact of the coronavirus pandemic on households and MSMEs.
As a matter of fact, all you need to know about CBN COVID intervention fund is covered in this article. This is therefore, to enable you understand the CBN guidelines for the programme. Included also is how to access the N50bn COVID-19 Intervention Fund.  In fact, here too are how you may apply for the CBN N50bn COVID-19 Support Loan. Furthermore, we have here for you the programme objectives, eligibility, funding procedure and loan limit.
COVID-19 Disruption of global supply chain:
As a matter of fact, Central bank of Nigeria (CBN) has emphasized that the corona virus (COVID-19) pandemic has led to:
unprecedented disruptions to global supply chains,
sharp drop in global crude oil prices,
turmoil in global stock and financial markets,
massive cancellation of sporting and entertainment event,
lockdown of large swaths movements of persons in many countries, and
intercontinental travel bans/restrictions across critical air routes across the world.
Therefore, it observes that the outcome has severe consequences on households' livelihoods and business activities. In fact, it opines that this has resulted from drop in global demand, declined consumer confidence and slowdown in production. 
Consequently, the Central Bank of Nigeria (CBN) has introduced the N50 billion Targeted Credit Facility (TCF) as a stimulus packaged to support households and micro, small and medium enterprises (MSMEs) affected by the COVID-19 pandemic.
Programme Objectives & Requirements for CBN COVID-19 INTERVENTION FUND.
As a matter of fact, the broad objectives of the CBN's N50 billion Targeted Credit Facility are to:
Cushion the adverse effects of COVID-19 on households and MSMEs;
Support households and MSMEs whose economic activities have been significantly disrupted by the COVID-19 pandemic.
Stimulate credit to MSMEs to expand firms productive capacity through equipment upgrade, research and development.
Eligible Participants
Furthermore, considering the class of people and businesses targeted for this programme, the following are the eligible participant.
Households: – These must be those with verifiable evidence of livelihood adversely impacted by COVID-19; and
Existing enterprises:  Which are also those with verifiable evidence of business activities adversely affected as a result of the COVID-19 pandemic. 
In general, these must be enterprises with bankable plans. And who are also willing to take advantage of funding opportunities arising from the COVID-19 pandemic intervention fund
In the light of the above, the activities covered are:
Agricultural value chain operations
Hospitality Sector with specialties on accommodation and food services.
Health Sector involved in pharmaceuticals and medical supplies
Airline travel service providers
Manufacturing and value addition activities
Trading – distributive, warehousing and retail outfits
Any other income generating operations as may be prescribed by the CBN.
Funding & Financial Institution:
Furthermore, this Scheme shall be financed from the Micro, Small and Medium Enterprises Development Fund (MSMEDF). And, the eligible participating financial institution for the Scheme Nigeria Incentive-based Risk Sharing System for Agricultural Lending (NIRSAL) Microfinance bank. That is NIRSAL Microfinance Bank (NMFB).
Loan Limit
In addition, the loan amount shall be specified in the supportive business plan. This is because the SMEs loan amount shall be determined based on the history of the activity projections. History of cash-flow and industry/segment size of beneficiary. And, subject to a maximum of N25 million for SMEs. On the other hand, the Households can access a maximum of N3 million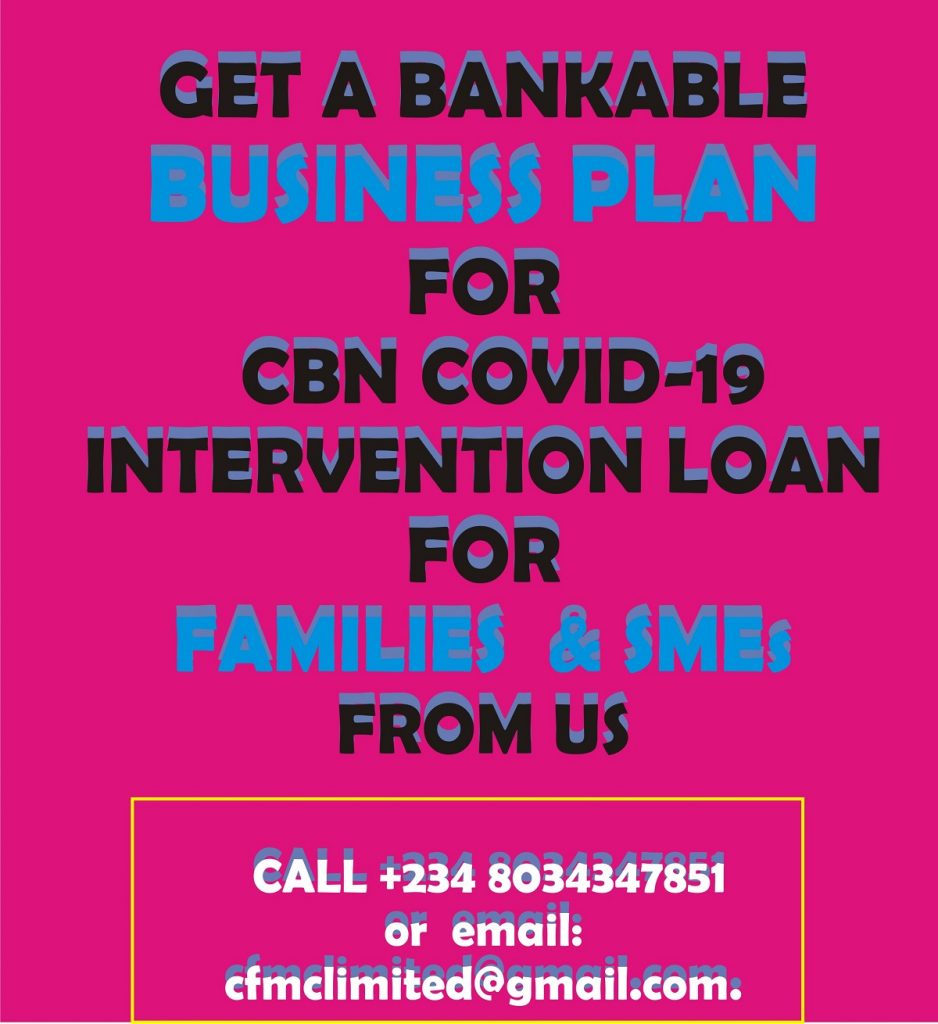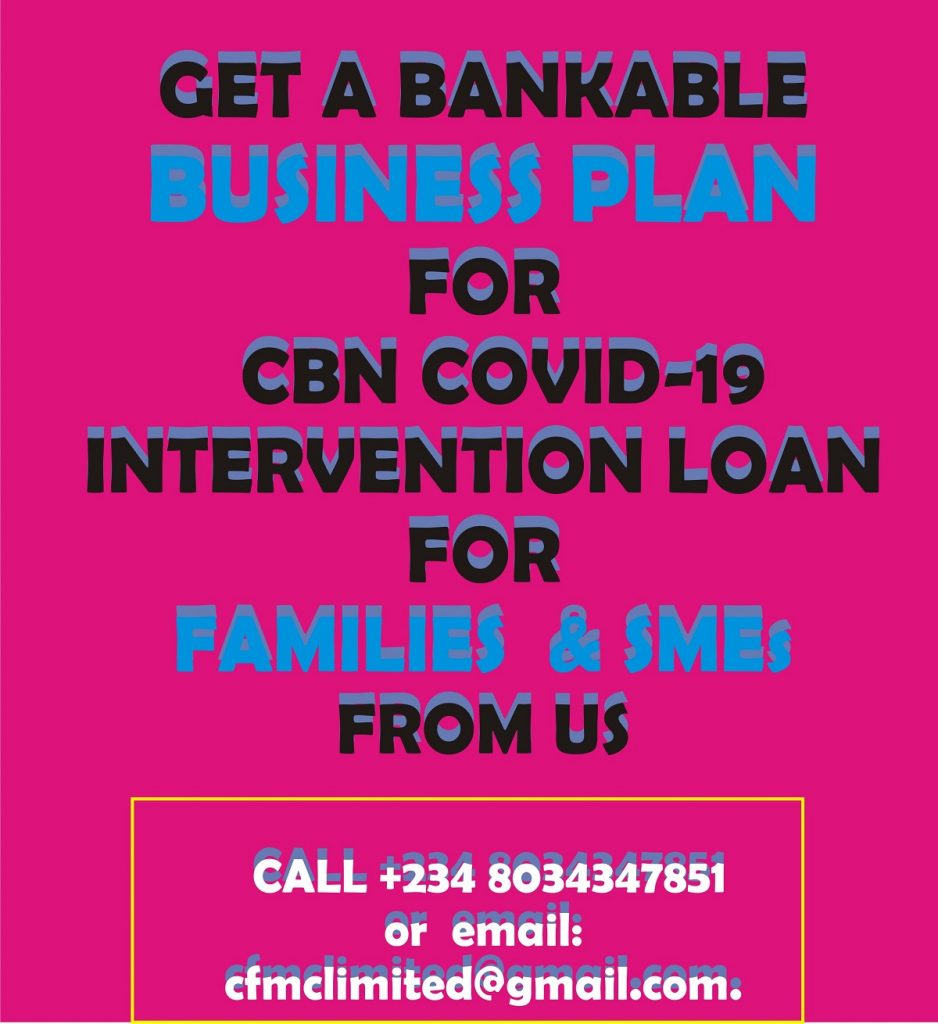 In this regard, the working capital shall be a maximum of 25% of the average of the previous 3 years' annual turnover. In addition, where the enterprise is not up to 3 years in operation, the 25% of the previous year's turnover will suffice.  The fact is that these variables and their relevant parameters must be shown in the business plan. Contact us for your business plan, right now. The Interest rate under this programme is 5% p.a. (all inclusive) up to 28th February 2021 and thereafter, the interest on the facility shall revert to 9% p.a. (all inclusive) as from 1st March 2021. 
RELATED TOPICS:
Requirements for COVID-19 CBN Intervention Fund
How to apply for COVID-19 CBN Intervention Fund
Considering the tenor of the loan, the amount covering the working capital is for a maximum period of one year. There is no option or opportunity for rollover. However, the term loan is for a period of maximum tenor of not more than 3 years with, at least, one-year moratorium.
The Collateral Requirements for CBN COVID-19 INTERVENTION FUND:
This facility has collateral requirement which must be one acceptable by NIRSAL MFB. The CBN specification include any one or more of the following:
Moveable asset(s) duly registered on the National Collateral Registry (NCR).
Simple deposit of title documents, in perfectible state
Deed of Debenture (for stocks), in perfectible state
Irrevocable domiciliation of proceeds
Two (2) acceptable Guarantor
Personal Guarantee of the promoter of the business
Life Insurance of the Key-Man, with NMFB noted as the First Loss Payee
Comprehensive Insurance over the asset 
Loan/Principal Repayment 
Furthermore, the loan repayment shall be made on instalment basis. The payment is to be made to NMFB. This is going to be according to the nature of enterprise and the repayment schedule or work plan provided at the application stage.
Requirements for CBN COVID-19 INTERVENTION FUND – How to get started:
Finally, it's good you started immediately. In fact, to get started, contact Complete Full Marks Consultants (CFMC) Limited for your bankable business plan now.
Contact phone is +234 8034347851 or email via cfmclmited@gmail.com. CFMC Limited can render other business support services for you. These include:
Business Information
Business Start-up guide/manual
Incorporation Documentation @ CAC
Import Export license if required
Comprehensive Business plan
Tax management Services
Statutory annual returns both for FIRS and CAC and others.
Business consultancy services etc. – mentorship and links with foreign and domestic supplies, middlemen and export/import forwarding agents.
Please, help us share to reach others.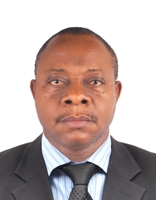 Founder/Managing Partner of Complete Full Marks Consultants Ltd. An Economist turned Chattered Accountant and Tax Practitioner with over 37 years of industrial experience.