This article is about 10 Most Lucrative Nigeria's Mining Industry Business Investment Ideas. And, it's about all the ancillary services associated with solid mining industry in Nigeria. In fact, there are so many solid minerals that form one business idea or the other. As a matter of fact, we have taken care of them in other articles. You can get at them by clicking here. On the other hand, this post gives details of 10 solid business mining ancillary services which you can invest in. For your start-up processes in this business, contact us. You can also get more information about your business start-up by clicking here.
Activate a Business Idea:
Furthermore, these are lucrative businesses. So, if you are living in an environment where mining activities are going, don't just be watching the mining operators. You have to think outside the box. There are things you can do for them. In fact, you could make your millions from them on that mining site. So, think about certain products to offer that no one else is offering to the site at that moment. And, even if others are offering them, why not be innovative so as to create a better option.
10 such brain storming business ideas
However, we have 10 such brain storming business ideas you can invest into for the mining industry. In fact, these business ideas are of global standard. So, no matter your country, as you read this article; think, think outside the box.
10 Most Lucrative Nigeria's Mining Industry Business Investment Ideas – Ancillary Products or Services:
As a matter of fact, for Solid Mineral Quarry Mining Exploration & Exploitation Business, ancillary products are those products that support the mining operations. Tools, equipment and other supplies are in supports to mining business. In the same vein, associated services provided by insurance firms, transporters, export agents etc. qualify as ancillary services. We are going to briefly introduce them, one after the other in this write up. We have detailed analysis on each product/service in other liked posts. You can click the relevant article for details.
1. Importation & Local Marketing of Modern Mining Equipment
To start with, along the value chain of mining process are exploration, excavation, crushing, milling, extraction and refining. So, at whatever state, mining equipment is required. Equipment involved include Crusher, Screen and Grinding & Classifying equipment. Others are Flotation, Gravity Separators, Magnetic Separators and Gold Extraction machines. Thickening, Dewatering and Transmission Equipment are all involved. Why not begin to import and market any of these modern mining equipment today. We recommend that local fabricators would produce them locally too. Read more.
2. Importation & Marketing of Modern Mineral Testing & Quality Control Technologies and Reagents
In addition, in solid mineral mining, testing and quality control system is very important. In fact, along the value chain of mining process, there are mining exploration, excavation, crushing and milling to reduce the size of the rocks. And, finally, extraction (removing the valuable minerals from the ore) and refining.
The point is that, at every stage there is an element of testing, controls and use of reagents. These must be supplied by a business man.
Action required:
So, you can import such equipment as modern laboratory analytical instruments such as Optical Emission Spectrometric analysis (OES), X-ray fluorescence spectrometry, optical ICP (Inductively Coupled Plasma) and infrared gas analyzers. Read more here
3. Local Tools & Equipment Fabrications:
This may be the ignored aspect of equipment production in Nigeria. That's why everybody orders even the little particles of a machine from China. But I tell you, there has been locally fabricated tools and equipment for agro products milling and processing that are world class.
So, starting a Local Tools & Equipment Fabrications factory for miners would not be a bad idea. Get details here.
4. Sales & Export of Crude and Processed Solid Minerals
As a matter of fact, the global crude oil price is failing. In fact, the reduction in global crude oil prices is not expected to reverse soon. This is why there is the need to diversify the economy towards improving other sources of revenue. In fact, one important industry expected to offer great potential in achieving this is the solid minerals sector.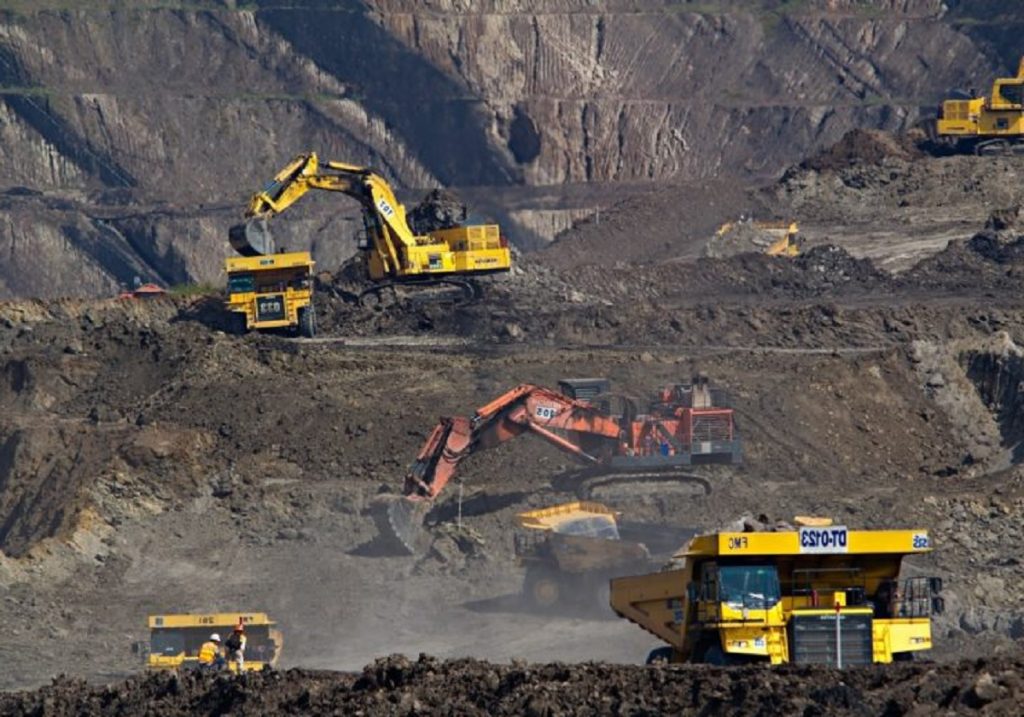 Therefore, if you start a distributive or brokerage business along this line, you will not be making any mistakes. In addition, is the export of the processed products. In whichever way you get involved here, you will be doing well. More information here
5. Solid Mineral Mining Laboratories:
These are geoanalytical laboratories that can provide high quality analysis to the exploration and mining industry. Therefore, facilities could include those for Radioactive Sample Preparation and macro and micro solid mineral recovery facilities. Investment in any of these facilities would make you a millionaire very soon. Click here for details
6. Mining Consultant-:
As a matter of fact, every industry needs a consultant. These consultants offer advice, directions or suggestions to help the business move forward. These could offer exploration projects management. These include geological solutions in the form of data compilations & reviews, target generation, programme design and planning. Others are budgeting, drill supervision, logistics, project management and implementation.
In addition, this will offer you the advantage of using the latest geophysical and geochemical techniques as well as trained, well equipped and well informed personnel. Details are here.
7. Transportation/Haulage Services-:
Mined solid materials are not used at the mining sites. Therefore, they have to be moved to places where they would be refined or used. In fact, a haulage business that focuses on this will certainly be a good business. Start from here.
8. Brokerage services-:
In addition, this service can be provided for local/domestic market or international market. So, freight and export forwarding agents could be involved here. In fact, there could be miners who do not have an idea of where to sell their outputs. If you notice this gap you could be earning good commissions from just linking buyers and sellers together. Yes, get this here.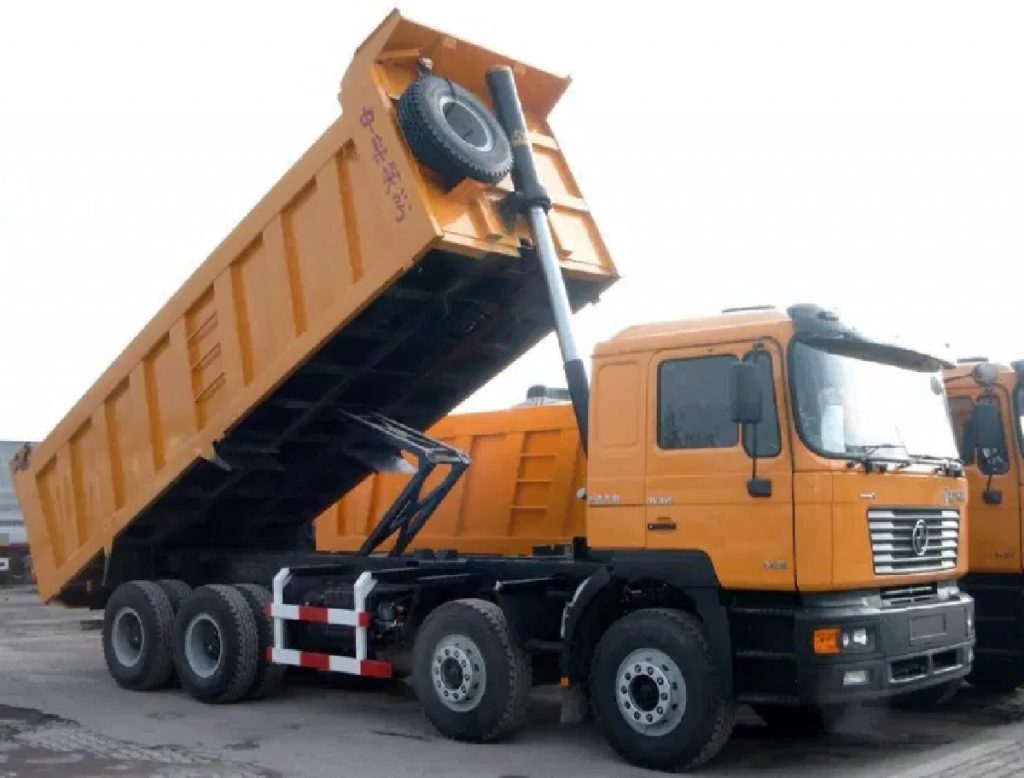 9. Financial Consultant-:
As you know, financial information and management is needed in every business. In fact, think of becoming a financial consultant to people in the mining business. In fact, there are a lot to do for them. Experience has shown that many of them do not know the importance of this. I also know that most Nigerian business men and women don't like to pay for information or professional fees. But you have to try.
Now do this!
Firstly, determine what to do for them. You could help them plan and secure funding. Solid mineral taxation is a bit complex even though it's on the Company Income Tax Act, (CITA). The incidence of mining royalties and fees are different ball game altogether, which requires tax experts. In addition, their internal control and mandatory audit matters are also there to be taken care of. You can contact us for these services. Click to start here.
10. Insurance Services
Finally, this can offer an innovative solution to common risks faced in the mining sector. There could be a brand that focuses on mobile assets. In fact, this brand cover protects the product, machinery and equipment. In addition, it covers the employees, wherever they are around the country. Click here.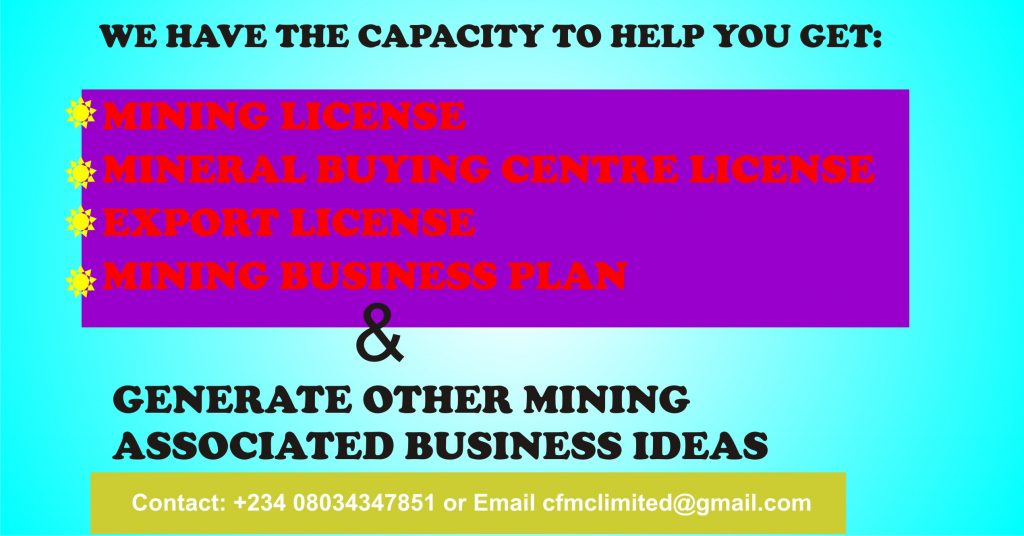 Related Posts:
Get Started On 10 Most Lucrative Nigeria's Mining Industry Business Investment Ideas.
In conclusion, get started by contacting us on these business information. Complete Full Marks Consultants Limited, renders business support services which cover:
Business Start-up guide/manual
Business incorporation @ CAC
Import Export license if required
Comprehensive Business plan
Tax management Services
Statutory annual returns both for FIRS and CAC and others.
Business consultancy services etc. – mentorship and links with foreign and domestic supplies, middlemen and export/import forwarding agents.
OUR CONTACTS:
Contact us on +234 8034347851 or cfmclimited@gmail.com.
Finally, I know you enjoyed this post. If I'm correct, please help us share. Also, like us on our Facebook platform too. Thanks for doing that.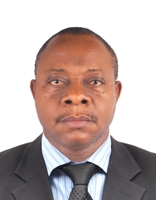 Founder/Managing Partner of Complete Full Marks Consultants Ltd. An Economist turned Chattered Accountant and Tax Practitioner with over 37 years of industrial experience.