WHEN YOU NEED AN AGSMEIS LOAN: WHAT YOU SHOULD DO. That's the answer to the question; what are the agsmeis loan requirements and how do I apply for a nirsal loan? Here re detailed guide on how to access CBN NIRSAL AGSMEIS loan for start-up and for upgrading existing businesses. In fact, it's a Collateral free CBN AGSMEIS Loan For SMEs and Agriculture Business.
Is fund a big challenge in your business?
As a matter of fact, do you have an existing business? Are you a prospecting young entrepreneur? Is fund a big challenge in your business? This is the time to take your business to the next level. AGSMAEIS is aimed at increasing business productivity, employment and income generation.  However, to qualify to access this fund, you need to have been trained by our Entrepreneurship Training Centre, accredited by SMEDAN AND NIRSAL bank. We own one.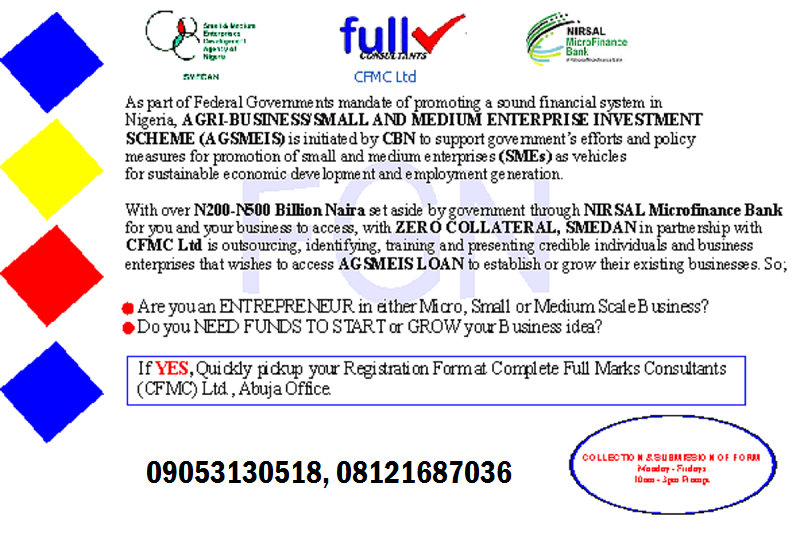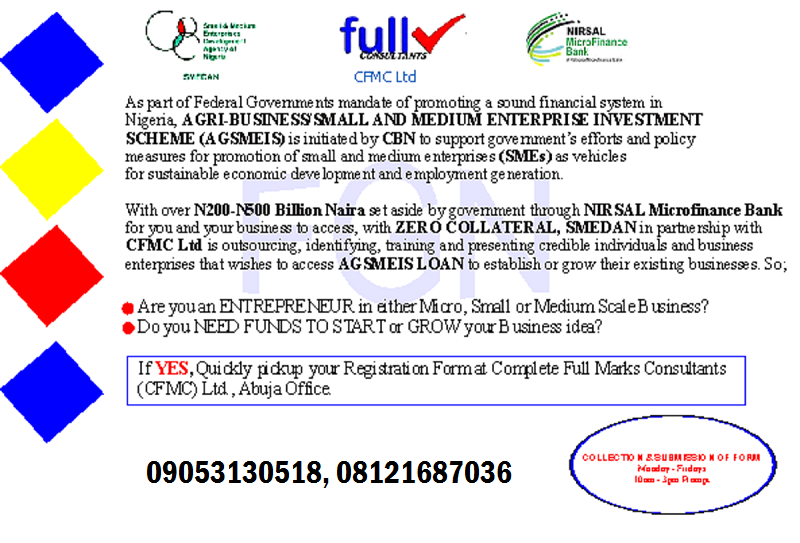 What You Should Do:
In fact, one of the first things you must do is to understand the objective of this scheme. This is because, it's a loan and not a grant. And, the Federal Government has objectives for setting up the scheme. These include:
That interested Small and Medium Enterprises (SMEs) have access to finance
So that they can generate much-needed employment opportunities in Nigeria
To develop agricultural value chain and ensure sustainable agricultural practices.
To boost the managerial capacity of Agri-Business/SMEs as pipelines of growing enterprises that can become huge corporate organizations.
The underline factor here is to increase national productivity in these related industries. Therefore, if you have understood these things, then let's look at other things you must do.
Get Trained:
Apply and attend a compulsory entrepreneurship training with a CBN certified Entrepreneurship Development Centre (EDC). Our centre is open for you. You can contact us today.
WHEN YOU NEED AN AGSMEIS LOAN: WHAT YOU SHOULD DO – Apply For Loan
At this point you have to fill the relevant forms and process the relevant documentations.
We will or any other Entrepreneurship Development Institute (EDI) will guide and assists you in the entire documentations. We could also help you to secure the loan by ensuring that you are captured easily in the loan data base. That will facilitate your attending the loan interview in few days.
The third step is to ask for Business Support Services.
As a firm of Chartered Accountants we offer you every business development and support services you require. In fact, our Entrepreneurship Development Institute will assist you implement business plan and provide business support services commercially. The business plan we do for you will see you through.
RELATED TOPICS: WHEN YOU NEED AN AGSMEIS LOAN: WHAT YOU SHOULD DO
The fourth step is for you to Receive Funds.
After due process the loans are paid into the account of beneficiaries. With that you are equipped to do business, sell your products and services to make profit and pay back the loan. Repaying the loan means you have to run your business well. That means you have to maintain a good internal control system which will enable you keep proper records, monitor sales and expenses to maximize profit. We can help you here.
What the Loan will help you achieve:
The loan will help you achieve these national objectives. Boost national productivity, employment and income generation. In fact, the range of turnover you generate will certainly make you boost your bottom line and to avoid business failure.
Therefore, get your business activities well documented. We can help you here, if you so desire.
OUR DEVELOPMENT & SUPPORT SERVICES FOR AGSMEIS LOAN WHEN YOU NEED AN AGSMEIS LOAN: WHAT YOU SHOULD DO
Ask for these services we offer you for this loan programme.
Our training centre facilitate your entrepreneurial training with SMEDAN
We also develop a suitable business plan for you
In addition, we register your business name or company with CAC where applicable
In fact, we will also ensure you are captured in both SMEDAN AND NIRSAL Microfinance bank data base to facilitate your loan interview. This loan interview is where you defend your business plan for the loan application.
COMPLETE FULL MARKS CONSULTANTS (CFMC) LIMITED:
This is a firm of chartered accountants, and management consultants. And so, we are trained for business cancelling. In addition, as accredited consultants with CAC, SMEDAN and other government agencies, we handle your statutory licensing and registration.
A a matter of fat, contact us for your AGSMEIS SMEDAN certification training. We hold at least a session each month. We carry out both physical and on-line training schemes for this programme. So, you can enrol from wherever you are residing in Nigeria.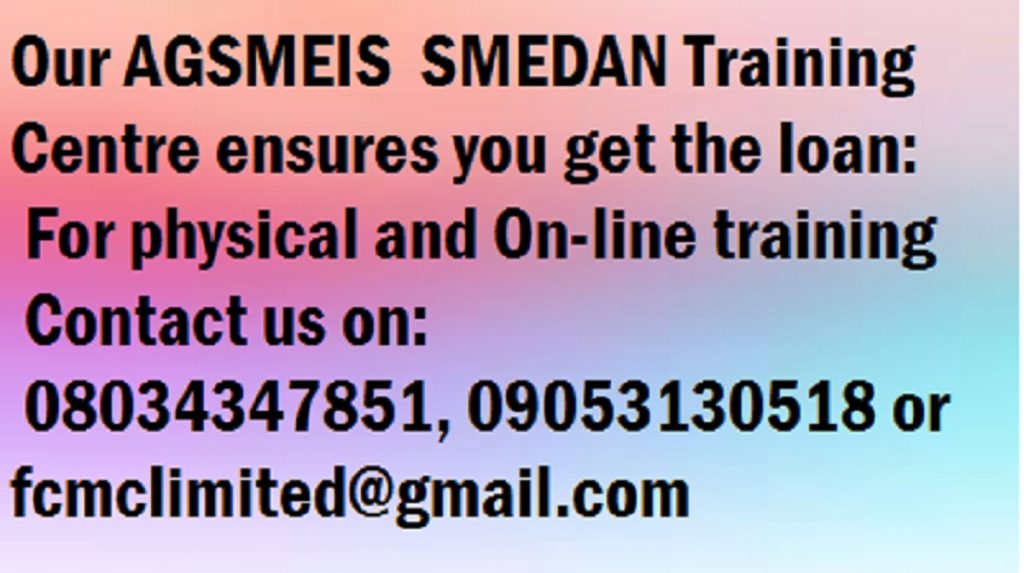 OUR CONTACTS WHEN YOU NEED AN AGSMEIS LOAN: WHAT YOU SHOULD DO
+234 8034347851 and 09053130518, or email us at cfmclimited@gmail.com
Finally, thanks for reading through. Now, think of helping a brother, sister or friend. Recommend you refer this training for the person. You can do this by sharing this post. Like us on our Facebook for updates.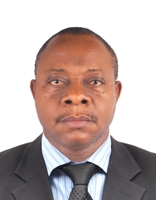 Founder/Managing Partner of Complete Full Marks Consultants Ltd. An Economist turned Chattered Accountant and Tax Practitioner with over 37 years of industrial experience.