Incorporated Trustee Minimum Board Members In Nigeria
This post addresses this one important question, What is the minimum number of trustees for a charity? In relation to Incorporated Trustee Minimum Board Members in Nigeria, it highlights the required steps to follow to register a Non-Governmental Organization (Ngo). As a matter of fact, it emphasis is on the Registration of Incorporated Trustees under Nigerian Company Law. Therefore, this post gives examples of incorporated trustees in Nigeria. And so, addresses other issues like incorporated trustees constitution, aims and objectives of incorporated trustees. Also, it explains the methods of application and procedure for incorporation of trustee in Corporate Affairs Commission (CAC), Nigeria.
Incorporated Trustee Defined:
In addition, Investopedia defines an incorporated trustee/ corporate trustee, as a corporation, usually a trust company, which is named as the trustee of a private trust or other fiduciary account. It further explains that incorporated trustees stand in contrast to an individual person or "natural trustee," who may also be selected as the trustee of such an account. As a matter of fact, Individual trustees are our concern in this article. This is because, it's what most Nigerians know about while registering their Churches, clubs etc.
Relevant Researchable Incorporated Trustee Questions include:
What is incorporated trustee?
How do I incorporate a church in Nigeria?
How do I register my business name with the CAC?
Additionally.what is the minimum number of trustees for a charity?
And so, how do I incorporate an NGO?
What about my town union and club registration?
As a matter of fact, if any of these questions addresses your challenges in this regard, this article is for you. This article will equip you with all you need to do in registering your club, church, society etc. And more especially, how you may avail yourself the opportunities Complete Full Marks Consultants Limited offers to register your associations, clubs, churches and mosques.

Incorporated Trustee Minimum Board Members In Nigeria – Registration of NGOs:
NGO means non-governmental organisations. Under this, are profit making and non-profit making organisations. Therefore, companies limited by share, unlimited, limited by guarantee etc. which make a form of profit or the other are the profit making types of NGO. The non-profit making NGOs are those that are not for profit organisations. Commonly, this is the type of NGO known to many of us. Therefore, these are our concern in this write-up.
Incorporated Trustees – NGO's, NPO's, Church, Club, Association, Town Meetings, Mosque, Humanitarian Organisations, Economic Empowerment organisations, Foundations etc. are all Non-Governmental Organization that must be registered with the Corporate Affairs Commission (CAC) as a company limited by guarantee or as incorporated trustee. So, The Companies And Allied Matters Act 1990, CAP C20 L.F.N 2007 (popularly known as CAMA) defines the criteria for the registration of these clubs, churches, organisations, associations, and others. On Part C of the Act; "Incorporated Trustee", note that such organisations can still be registered as company limited by guaranty as under the Part A. This is to enable them to be able to do some limited businesses even as an NGO, church or club, among others.
Incorporated Trustee Minimum Board Members In Nigeria – Individual Trustees:
As it stands now, these are founding fathers of your association, club and church etc. The certificate of incorporated are always issued in their names. They are different from the executive officials of your club. The setting here is that of the Board of Trustee, Executive members, Sub-committees and other members as shown in the following diagram.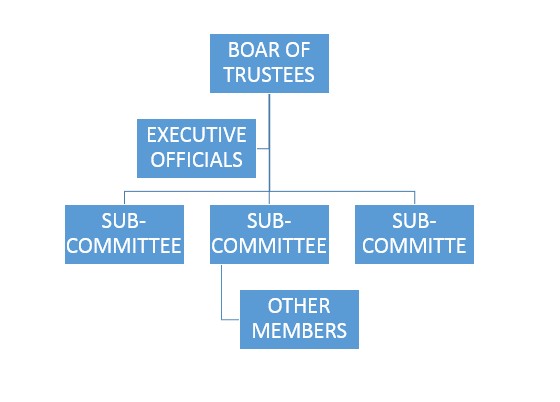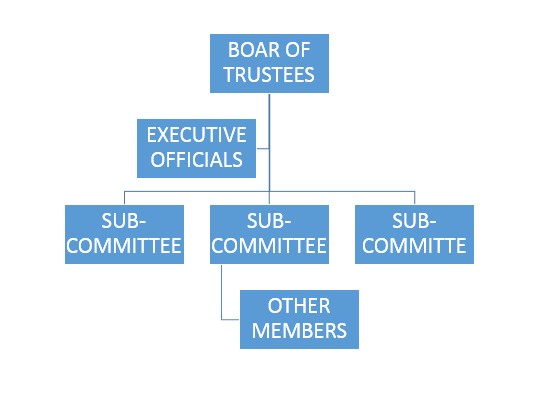 Incorporated Trustee Minimum Board Members In Nigeria
Why is Individual Trustees Preferred:
Individual members have different professional competencies to offer the association.
Therefore, Individual trustees are less expensive, less complex and require less paperwork;
An individual trustee is more likely to have personal knowledge of a grantor's desire and intents, especially if they are a close friend or family member;
Again, an individual trustee may have a greater ability to guide and influence the individual or organizations distributions and awards;
Individuals may have a better awareness of changes in circumstances, goals or operations.
In addition, individuals can be changed from time to time. This gives room for good succession processes.
Furthermore, individuals are easily handy and willing to offer help in terms of legal issues and banking matters.
Number of Board Members:
However, to be straightforward in this matter, there must be at least two (2) members. Among these must be the Chairman and the Secretary. The most important members of the board of trustees. Thus, honorary members can always be added.
The point here is that you must be able to appoint the number of board members that are suitable and manageable by the club. As matter of fact, this becomes important when you want to make changes in the incorporated documents with CAC. This is because, such changes will mean altering the original incorporated certificate.
And, I tell you, that means you will do another newspaper publication for such changes. That's why, Complete Full Marks Consultants Limited, advises its clients to use members whose details re more permanent.
Furthermore, you need more information here:
WHAT CAC ACCREDITED CONSULTANTS CAN DO FOR YOU:
Again, what can we do for you at this point in time? What is that pressing challenge for accredited consultants to solve for you now? Contact us immediately for any of these services. These inlude:
(1) Filing Of Annual Returns For All Entities – Private, Public (Plc), NGOs Etc.(2) Change Of Directors, Trustees, Partners, Secretaries Etc. (3) Change In Share Holding Ratios, (4) Liquidation Processes, (5) Change In Registered Address, (6) Change Of Name In Whichever Class Of Entity (7) Conversion From Limited Co, Plc, Unlimited Co. To Any Other Type, (8) Changes In Authorised Share Capital,(9) Changes In Memorandum And Article Of Associations,(10) Replacement Of Lost Documents – Get Certified True Copy(11) Changes In Ngo/Club/Churches Constitutions,
Overall, to get more corporat services and information on this site,please, Google site search for completefmc. That is, type whatever you want to search for on google by adding /completefmc at the end to get you right inside this site. e.g. church registration/completefmc.com will take you to other clubs/society registration informtion on this site. Just try it now.
Furthermore, click to read the highlighted comments on our pages.
Lastly, make maximum use of our social media buttons. You can do this by utilizing our share, follow us buttons and comment box. I tell you, these will keep you connected with us. Remember, that by sharing you maintain a good bond of fellowship.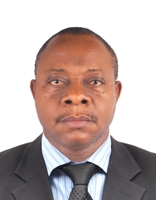 Founder/Managing Partner of Complete Full Marks Consultants Ltd. An Economist turned Chattered Accountant and Tax Practitioner with over 37 years of industrial experience.