A Winning Block Industry Business Plan Template is a template for writing various block industry business plan. This is suitable for writing business plans for hollow concrete blocks and Aerated Autoclaved Concrete Block (AAC). In addition, it's suitable for Concrete Bricks, Solid concrete blocks, and Lintel blocks business plans. It's special for Concrete stretcher block and Paving Blocks.   .
USAGES:
As a matter of fact, this Winning Block Industry Business Plan Template is used for builders' association and housing consultant firms. In fact, development agencies and construction workers demand for this.
Furthermore, for this template to serve you better, you have to have a clear vision for your business. In addition, you must have gathered your business facts and projections to communicate to the users of the plan.
These actually means that you must be planning for a well-structure business plan. So, start like this.
BUSINESS PLAN CONTENT FOR A Winning Block Industry Business Plan Template:
As a matter of fact, you must be orderly while preparing your business plan. A haphazard or disjointed presentation will throw your business plan out. This is why you must need the services of the specialist. So, take your time and work out the content of your plan. Otherwise, if you need the services of a consultant contact, click here.
EXECUTIVE SUMMARY
Firstly, get your executive summary ready. This sounds ironic because you will only have the facts to put down here after completing all other parts of the plan. So, this is the last part of the proposal to write. But by its nature, it's the first part to be presented.
This segment may include your vision and mission statements. These are to help your investors know your direction in business. A visionless organ must be a visionless organisation.
BUSINESS PROFILE FOR A Winning Block Industry Business Plan Template:
Secondly, tell your business story here. How and when did you start this business? Or how, when and why do you want to start this business? All these stories have to be honestly told here. So, let your story tally with other facts you will be presenting later.
OBJECTIVES:
Furthermore, there are two objectives to cover here. One is the objective of the business. The other is the objective of the business plan.  As you know, the investor is interested in the two objectives. So, list them out.
BUSINESS VALUES:
In fact, these are emotional competencies that bother on how you treat your customers and staff. Are you truthful? Do you do honest business? Any integrity challenges? And, are you fair to all? Is the customer the King?
PRODUCTS AND SERVICES:
What products do you have to market? What types are there? How are they produced, stocked and packaged?
In fact, everything about your product and services will be enumerated here.
COMPETITION:
If you must survive in this business, you must know how to beat your competitors. But, then, who are these competitors? How do you want to win the race?
MARKET AND MARKETING:
You want to take money from investor – Right? Yes! Turnover speaks here. So, tell your investor how you intend to generate the turnover that will drive the business. Enumerate the marketing strategies that works for you.
A Winning Block Industry Business Plan Template – MANAGEMENT EXPERIENCE:
If you are a start-up, let your investor know. And if you have cognate experience, tell him/her too. Be sure that his/her interest is on how to protect the investment. So, your experience tells him/her a lot here.
Furthermore, if you have capable hands among your staff, list them here. Their training and work experience will help you.
SWOT ANALYSIS:
As a matter of fact, this is your opportunity to explain your strength in this business. So, based on what capacities and features you have, let the reader know your strength. Are there existing and anticipated weaknesses? Let us know here. In fact, all opportunities available to you must be listed out here too. Technical, geographical and economic threats could be a problem. This is where you will highlight them. One after the other.
Finally, let us know if you would be able to survive in this business considering all of these.
FINANCIAL PROJECTIONS:
Furthermore, this is where you present a well-articulated financial plan. They are operational projections for every aspect of your business. In fact, the turnover, income statement, balance sheet, cash flow statement etc. will show here.
OTHER MATTERS:
Did we forget anything?  What about your management team profile? What did you do about your business break-even analysis for feasibility analysis?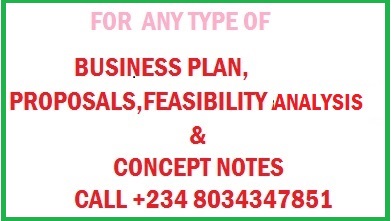 A Winning Block Industry Business Plan Template – ATTENTION NEEDED HERE:
Business plan feasibility analysis is a technical issue. In fact, such financial technical matters are better handled by professionals. That's why I drop my contacts here. You may need us. So, if you need to register your business before contacting your investor, just let me know now. Complete Full Marks Consultants Limited, owners of this site, are chartered accountants. We will do so much for you. Find out here – Click.
Contacts:
cfmclimited@gmail.com. And +234 8034347851.
READ ALSO:
Yet again, please. Share this to reach others. Follow us on our social media platforms for a regular information. Thanks for reading this article. I hope you enjoyed it.