Modern General Contractor Business Plan
Modern General Contractor Business Plan – In the modern time the scope of general contracting business is widening especially since the 21st century digital age. Therefore, this business plan is for construction business encompassing architectural, engineering, plumbing, electrical, and other construction related professions. On the other hand this business plan is good for general construction business plan, start-up construction company business plan, residential construction business plan, plumbing contractor, Electrical contractor, Formwork and Carpentry contractor business plans.
Therefore, if you re into General Contractor Business this business plan is for you. This illustrative business plan on General Contractor Business is also for you, if you re one of us who write business plan for others. In addition, this business plan template is a researchable framework for students of accounting, administration and management.  Every component of this business plan is here. You could contact us for peculiar circumstances.
Modern General Contractor Business Plan
 Modern General Contractor Business Plan Executive Summary
Anekivine Nig. Limited  plans to become a leading provider of construction and renovation services in the local area. The company's overall operation strategy will be based on a continuing improvement process of setting objectives, measuring results, and providing feedback to facilitate further growth and progress.
Anekivine Nig. Limited is a company whose  principal offices re  located in the local areas of Federal Capital Territory Abuja  and Nasarawa State of Nigeria with its head office in Nyanya AMAC FCT. The company's management team is highly experienced and qualified.  Deacon Anekperechi Nworgu, an Economist turned Chartered Accountant and Tax Practitioner, who leads the management team has over  thirty five years  experience in construction industry and related administrative and accounting operations.
Modern General Contractor Business Plan
As a matter of fact, through these years of experience, Anekivine Nig. Limited owners have developed sophisticated bidding, scheduling and materials solutions for some of  most complex  modern construction projects of today. The company is well positioned to use versatile and completely adaptable methods for  variety of building configurations.
Consequently, owners, developers, construction managers, general contractors, and sub-contractors re expected to realize substantial savings in labour and material costs by using the company's construction methods and systems. Applications include commercial and residential structures.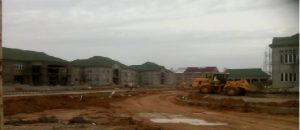 Modern Construction site in Nigeria
Modern General Contractor Business Plan
The Market
Recently, the housing industry has been growing at a fast pace in Abuja and its environs. This makes for excellent opportunity for on-going and future expansion of the industry.
Anekivine Nig. Limited plans to rapidly develop marketing alliances with industry leaders and pursue new sales of its services to residential and commercial builders. The marketing strategy will focus on securing individual, state and federal government contracts.
Therefore, Anekivine Nig. Limited plans to use  direct sales force, relationship selling, and sub-contractors to reach its target markets. These channels re most appropriate because of time to market, reduced capital requirements, and fast access to established distribution channels.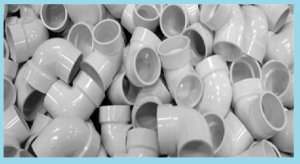 Modern Consruction Plumbing Materials in Nigeria
Modern General Contractor Business Plan
 Financial Considerations
In the light of all of the above, we expect to pass the break-even point in the third quarter  of  first year. Despite initial large outlays in cash to promote sales, the company's cash account is expected to remain healthy. The company expects approximately N2, 772,000 in sales revenue and reasonable net profits by Year 3.
 Mission
In this connection, our mission is to be the best partner for our customers, suppliers and employees. Therefore, to realize our vision, we will strive for profitable growth, operational excellence, customer satisfaction and strong brand positioning.
Objectives:
In continuation, the following objectives would guide us in our operations.
1. Firstly, to have up to two construction projects established within the first year.
2.And  to have two building renovation projects in progress by the end of the first year.
3. To locate and purchase our first rental building by the end of the first year.
4. To achieve at least 7% profit by the second year.
Modern General Contractor Business Plan Keys to Success
Conclusively, our keys to success will be:
• Using  most updated materials and equipment to assure quality construction projects for ourselves and  customers.
• Secondly, educating customers and providing valuable advice during construction planning stages.
• Helping to confirm customer's research about targeting markets and specific sectors.
• Therefrom, overseeing logistics associated with  project, which can include arranging local transportation, booking meetings etc.
• Assigning actual works to experienced and qualified third-party contractors and sub-contractors.
Now check out these related topics for better appreciation.
Modern General Contractor Business Plan
In Actual Fact:
Anekivine Limited is actually a dully incorporated Nigerian company that specialises on general contract, supplies and general merchandise. You can contact it via  +234 8097900795  for such services.  General services as travels and protocol services, subcontracting, and related collaborative jobs re welcome.
The Comprehensive Part of the business plan:
As a matter of fact, the comprehensive  part of this business plan, is obtainable from Complete Full Marks Consultants (CFMC)  Limited.  CFMC Limited is a firm of Chartered Accountants. You know what that means! It means we can do so much for your.  We will help you register your business/company with CAC, handle your tax matters with FIRS or SIRS. We will  do your business plan, do your accounting, auditing exercises as external auditors or for your internal control management. Frankly, we will get your PENCOM. ITF, NSITF compliance certificates for your contract biddings.
Contact us on cfmclimited@gmail.com or call  +234 8034347851 for these assignments.
Finally, if you enjoyed this post, please share to reach your contacts. Remain connected with us by clicking on our Facebook platform for your regular updates.
Modern General Contractor Business Plan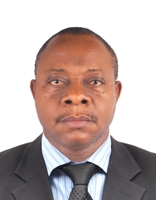 Founder/Managing Partner of Complete Full Marks Consultants Ltd. An Economist turned Chattered Accountant and Tax Practitioner with over 37 years of industrial experience.